BYD major supporter of 'Brand New China' initiative
BYD major supporter of 'Brand New China' initiative
BYD
July 29, 2014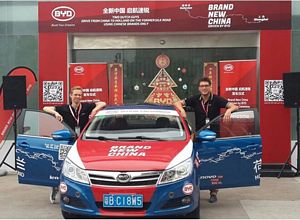 Two Dutch guys aregoing to start the journey from Shanghai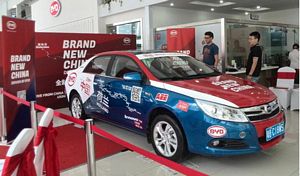 BYD F5 Suri in the showroom
Chinese car brand embarks on a three-month demonstration drive from Shanghai toRotterdam
'Brand New China' is an important initiative which aims to demonstrate to Western consumers the excellence of Chinese designed products. As a company with design and technology at the core of its culture BYD is delighted to be its principal sponsor.
The brainchild of two young Dutchmen who have lived and worked in China for some years, 'Brand New China' involves a 20,000 km drive along the former Silk Road through 11 countries using just Chinese brands and products. The journey coincides with the celebration of the 35th year of the sister city relationship between Shanghai and Rotterdam. The drive began today with a farewell ceremony held at a BYD dealership in Shanghai.
In view of the remoteness of some sections of the route, which prevents the deployment of the advanced hybrid or fully electric cars it plans to bring to Europe soon, BYD has supplied the Dutch duo with one of its gasoline fuelled cars, the F5 Suri, in which to complete the journey.
The BYD F5 Suri excelled with a five star performance rating in the all important C-NCAP crash test last year by the respected China Automotive Technology and Research Centre. The F5 Suri not only attained a new record score for a Chinese home-grown brand with 56.5 points in C-NCAP result, but also performed better than many international joint venture brands such as Ford's Kuga and Volkswagen's Santana.
In addition to the BYD car, the Dutch pair, Maren Striker and Rogier Bikker, have attracted support from Chinese makers who are providing Huawei smart phones and Lenovo laptops as well as tents, sunglasses and even underwear to demonstrate the strength of Chinese branded and designed consumer products.
When the journey is completed – in mid-October – the BYD car and the two Dutchmen will rendezvous at BYD Auto Europe's HQ in Rotterdam for a welcome home party.
Isbrand Ho, BYD Auto Europe's Managing Director, commented: "This is a great opportunity for us to show off BYD and its products. The Suri is one of the new generation of BYD vehicles which are transforming our company into a one known for the excellence of its original design capabilities.
"We'll be launching passenger cars in addition to our established range of B2B products (such as buses, taxis and forklifts) within the coming two years so this demonstration of F5 Suri's durability, drivability and reliability will help to properly position our brand to European buyers.
"It's a great initiative which we are pleased to support. It will help show to the world that Chinese ingenuity and skills are of the highest quality. It also underlines the fact that, from being the world's cheap manufacturing centre, China is fast developing capabilities to design sophisticated, desirable and technologically-advanced products – from cars to underpants!"
About BYD
BYD Company Ltd. is one of China's largest companies and has successfully expanded globally. Specializing in battery technologies, their green mission to "solve the whole problem" has made them industry pioneers and leaders in several High-tech sectors including High-efficiency Automobiles, Electrified Public Transportation, Environmentally-Friendly Energy Storage, Affordable Solar Power and Information Technology and Original Design Manufacturing (ODM) services.
As the world's largest manufacturer of rechargeable batteries, their mission to create safer and more environmentally friendly battery technologies has led to the development of the BYD Iron Phosphate (or "Fe") Battery. This fire-safe, completely recyclable and incredibly long-cycle technology has become the core of their clean energy platform that has expanded into automobiles, buses, trucks, utility vehicles and energy storage facilities. BYD and all of their shareholders, including the great American Investor Warren Buffett, see these environmentally and economically forward products as the way of the future.
BYD has made a strong entrance to the North, Central and South American markets with their battery electric buses, and lineup of automobiles. Their mission lies not just in sales growth, but also in sociological integration and local job creation as they have poured incredible investments into developing offices, dealerships and manufacturing facilities in the local communities they now call home, truly a first for Chinese companies. For more information, please visit www.byd.com
Connect with The Crittenden Automotive Library