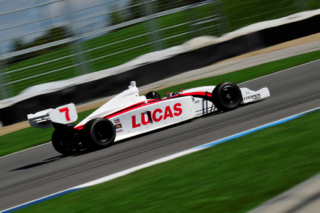 Parker Kligerman on track at
Indianapolis Motor Speedway
Photo credit: Eric Schwarzkopf (ImageWorks)

For more information contact:
Monica Hilton
monica@242mph.com
608.669.3211
FOR IMMEDIATE RELEASE





Parker Kligerman Turns Heads
During Impressive Test at IMS


Indianapolis, IN - September 16, 2014 - Parker Kligerman completed two successful test days and earned a P2 spot on the scoring charts in an Indy Lights car for Schmidt Peterson Motorsports during the Mazda Road to Indy "Chris Griffis Memorial Test" on Saturday and Sunday at the Indianapolis Motor Speedway.



Although not a stranger to the world of open-wheel racing, Kligerman was calculated and cautious during the initial test session, so as to learn as much as he could and get familiar with the car, setup and track.



Throughout the second, third and fourth test sessions, the 24-year-old, Westport, Connecticut native continually improved his time, eventually earning a best time of 1:20.5187. The time was only 0.35 seconds off the pace of Spencer Pigot, the 2014 Pro Mazda Series champion.



"Overall, I'm really happy with the results and had such a great time," said Kligerman. "I was able to get within three-tenths of last year's Star Mazda champion, and the guy that has lead every session, so that's really awesome.



"I'm just really happy with how the test went. I really got to hustle the car in that last session, and was able to just take it by the neck and go out there to find some speed. That's what you have to do in these cars.



"I just want to say thank you to Sam Schmidt and the Schmidt Peterson Motorsports team, in addition to my PK Racing team, Lucas Oil, Bell Helmets and everyone that has made this possible."



Kligerman added, "I sat in the car before this last run when we put on new tires - it was the 'go' run - and we were going to have five laps to set the fastest time I was going to get to in this car. I just had to smile because I realized I was at the Indianapolis Motor Speedway in an open-wheel car about to go take a lap that could be the figurative pole. So that was just an awesome moment and something I'll relish forever. Hopefully I'll get a chance to do this again because I think we were really fast and we proved that we can do it."



Schmidt Peterson Motorsports team owner Sam Schmidt commented, "Parker was very impressive in the test. Given that he had not been in an open-wheel car for some time, nor is he a regular on road courses, I'd say he out-performed all expectations. He didn't put a wheel wrong over the two days of testing and did everything that was asked of him. We are convinced he could be successful in open-wheel racing should he decide to come back full time."



Following the success that Kligerman has achieved so far in a variety of motorsports disciplines, the Indy Lights test will allow him to use his open-wheel racing experience to explore new opportunities for the next phase of his racing career.



The future is bright for Kligerman as he continues to work on his plan for the 2015 racing season. In the meantime, his schedule is filled with appearances on NBC Sports Network as an analyst for NASCAR America, in addition to being a regular contributor for Jalopnik.com, hosting his weekly podcast (Kickin' it with Kligerman) and running the company that he co-founded, Nootelligence.



About PK Racing
Founded in 2007, Parker Racing LLC was created to further the career of Parker Kligerman in the world of professional motorsports. Run by a small team of family members and managed by Bob Perona, PK Racing has helped Parker successfully earn an impressive track record in multiple racing disciplines, in addition to a spot in the top rung of the NASCAR ladder, the NASCAR Sprint Cup Series.
About Schmidt Peterson Motorsports
Schmidt Peterson Motorsports (SPM) was established in 2001 and is owned by former IndyCar driver Sam Schmidt and businessman Ric Peterson. Schmidt was paralyzed (quad) in 2000 after an accident during testing at Walt Disney World Speedway in Orlando, Fla. SPM fields cars in the Verizon IndyCar Series, the Indianapolis 500, and Firestone Indy Lights. SPM is the most successful team in Firestone Indy Lights history with seven championships. In addition, SPM has qualified 17 cars in the Indianapolis 500 since 2001 and, in 2011, won the coveted Indy 500 pole. SPM also fields the #77 entry driven by Simon Pagenaud, the 2012 IZOD IndyCar Series Rookie of the Year who finished third in the 2013 IndyCar Series Championship.