Ed Carpenter's Iowa Blog
Ed Carpenter's Iowa Blog
Ed Carpenter
Ed Carpenter Racing
July 13, 2014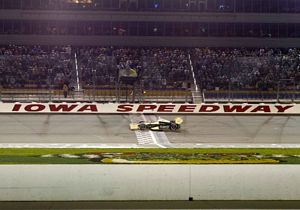 Ed talks about Saturday's short track action at Iowa speedway.
July 13th 2014 - Newton, Iowa -- Now that was the way to end a race.
In case you missed the end of it last night, the Iowa Corn Indy 300 at Iowa Speedway was something to behold. Tony Kanaan led almost the entire race -- 247 of 300 laps -- but Ryan Hunter-Reay made a pit stop with just a few laps remaining and roared back to win it.
We did the same thing, but we did it one lap after Hunter-Reay and Josef Newgarden, who also pitted under yellow before the final restart and followed RHR past Kanaan for a second-place finish. I'm convinced we would have had a great chance to win the race if we had pitted the same time as Hunter-Reay and Newgarden.
That one-lap delay cost us precious ground, but I'm not going to complain about finishing fifth. Especially when we consider how difficult the No. 20 Fuzzy's Ultra Premium Vodka Chevrolet was handling just a few laps earlier. If we hadn't stopped and taken those new tires late in the race, I'm sure we would've ended up in the same situation that Ryan Briscoe did.
He had a great race all night, but he couldn't risk giving up track position to pit for new tires, so he ended up fading back to ninth place. Hunter-Reay, Newgarden and I were far enough back in the field that we could take a chance and give up the positions knowing that we could make them up with faster tires.
All in all, I have to register this one as a positive. While I'm disappointed that we didn't make the move with Ryan and Josef, but it's a top-five finish, which means we scored points. Considering the way the race went at times and how hard we struggled with the car, I'll take it.
There were other positives. My crew guys gained spots for me on almost every pit stop, so that gives us all confidence moving forward. We didn't have the car to win -- we weren't nearly as fast as Tony or Ryan -- but we did manage a top-five finish. Anytime you can pull that off, it's a good result I really felt bad for Tony afterward. He was the class of the field, dominating the race throughout, and it looked like he was on his way to a win. Then, suddenly, he had to settle for third.
That's difficult to accept, but there wasn't anything he could do to prevent it. The cautions just didn't fall his way.
I also felt bad for Juan Pablo Montoya afterward, which is why I sought him out to apologize after the race. As you probably saw, Juan and I tangled in Turn 3 late in the race, and it cost him a strong finish. I knew he was there, and I knew he was looking to get around me.
What I didn't know was that he was making the move when he made it. I wasn't trying to block him or do anything intentional. I hated to see him crash, and a lot of people were mad at me, so I found him after the race and apologized. He was angry, as you can probably expect, and he wanted a penalty. I don't agree with that part of it -- I feel like it was more of a racing incident than anything -- but I don't want this to be something that festers between us beyond this one incident, so I sought him out.
I like Juan, and I think his return to the Verizon IndyCar Series is great for drivers and fans alike. I have the greatest respect for him, and I wasn't trying to do anything wrong. I just didn't know he was going to try to get through when he did.
But overall, I think this race at Iowa Speedway was highly entertaining. I heard that afterward from many people. I enjoyed being a part of it and hope that you'll be able to join us again next year. I bet we're capable of an even more compelling finish.
-Ed Carpenter
Connect with The Crittenden Automotive Library