Team Manager Tim Broyles' 2013 Season Blog
Team Manager Tim Broyles' 2013 Season Blog
Tim Broyles
Ed Carpenter Racing
December 6, 2013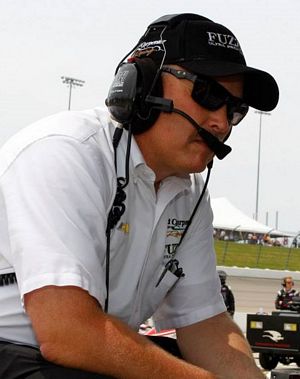 ECR Team Manager Tim Broyles
December 6th 2013 - Our team felt pretty good the way we ended up this season with our plans and our goals. Getting a year under our belt as a new team and a new company was important.
Last year, we had to get up to speed pretty quickly. It was tough to get everything in place and it took a better part of a year to get our arms around the whole program. We were able to put more of a development plan and testing together in 2013. We feel like we did everything we wanted to do as a young, one-car team. We accomplished everything we set out to do with the development of the car and the team.
It was a huge accomplishment for us to sit on the pole at Indy. And then there are 32 other teams who walk away from the Indy 500 disappointed. Only the winner is really happy. We went to Indy to sit on the pole and win the race this year. We got half of the work done.
Coming out of the race, it was mixed emotions. We were thrilled to be on the pole as a team and a company with a single-car team and a second-year company. Sure, we were a little disappointed how we finished at Indy (10th). We felt we had a car to win the race. But this year's Indy 500 was very competitive and the race didn't play out the way we had hoped. We weren't able to dig ourselves to the front when we need too. It was a track position race for sure at Indy. You look at the guys who were up front and it was challenging for us to get back up with them in the middle of the race. We had to chase the track conditions a bit too. If you could have got yourself up to the leaders, then you can race for the win at the end of the 200 laps. So it's mixed emotions for us. We're proud to win the pole and fight those big teams for that trophy.
We would have liked to come out with another win in 2013 like 2012, but it is tough. This series is extremely competitive. We had some chances at Texas, Iowa and Fontana to win. It just didn't click for us this year. Just look at how many different race winners there were this year and it shows how hard it is to win. If you can be competitive on a consistent basis, you will have a chance to be right there for a victory.
Coming out of our second season, I think people definitely know that we are in contention. I think our record on the ovals speaks for itself as we were in contention at each race including Indy, Texas, Milwaukee, Iowa, Pocono and Fontana. We had some chances to win races this year. I think we do a lot with what we have as a single-car team and a new team to the IndyCar Series. It shows how hard everyone works here at ECR and to put out the best package possible. I think for a one-car team we do a pretty good job challenging the other operations.
On the road courses, we improved a lot this year. Ed was competitive in many races this year with his speed. It may not have shown in the qualifying or race results some time. Lee Bentham (our driving consultant) and Ed worked really well together this year. We would get better with each race in certain areas. The level of competition across the board is very strong. You see guys who run well one week on the road circuit and are out of the top-ten or even worse the next week. It isn't easy to be consistently up front in this series.
We have improved the car and Ed works as hard as anyone from the driving standpoint. I think many people in the series have a lot of respect with what we do with a single-car operation. I think our pit stops, our presentation at the track and our work ethic is right with anyone else in the series.
Sure, we would like to be a two-car team in the future and become even more competitive with each race. We think we could move to the next level if we can expand down the road. One gauge of the respect for our team is amount of job enquiries we receive each week here. We have a lot of people fishing around and asking our team's plans for 2014. I think that shows that ECR is very respected in the paddock.
The next step as a company is to grow to two cars if possible so we plan out several different scenarios if we expand to two cars or we stay with just one car. After being in business for two years, the next logical step is to grow but you need the funding to make that happen. If we get two cars full time or two cars partially for a season, that would be great because we can gain additional information to help perform better. If you look at the teams that are fighting up front consistently at the races, they are multi-car efforts. They have more resources to work with and can be more competitive. They have more engineering staff and more drivers sharing information. That makes a team stronger.
Lee (Bentham) is about as close as we have to a teammate for Ed as he comes to the races and explores a variety of things on and off track for us. He is an additional set of eyes and ears in helping Ed do his job. Lee is able to give us a different perspective. Being a former driver, he gives us good feedback in addition to what Ed is saying.
Our team lost Derrick Walker at mid-season and Derrick had big shoes to fill here as the general manager. I do feel a little more pressure since he left and I have taken over some of his responsibilities along with Ed, Bret (Schmitt, crew chief) and others. We wouldn't be in the position we are now if it wasn't for the ground work Derrick's established for us in the beginning. He was able to set this team up whether he was on the scene or not. He has had a big influence on the direction of this team and how we got to where we are right now.
It is a bit of more pressure for me now. I have to look things from a different viewpoint. I look at the overall performance of the team to the budgetary standpoint to the on-track performance to the hotel rooms and if the crew is getting fed and travel logistics. We do share some of the work load around now, and Bret and Matt (Barnes, lead engineer) have had to take on more this year too. Everyone has stepped up to help since Derrick's departure. Ed has had to do more from the office side too now.
We worked hard initially to put together a solid, experienced team. We are proud that we have been able to keep the crew intact for more than 18 months when we put it together. It was in Indy 2012 before we were able to put everyone in the proper places that we wanted. I'm glad we took the time to do that because we were able to messed people together. It reflects on the whole company and the sponsors as well. It is not easy because everyone has to work together but I feel we have built excellent culture here at ECR. I think there is a lot to be proud of here and also looking into the future.
Connect with The Crittenden Automotive Library