Carpenter, Dixon Appear At SONAX Booth in SEMA Show
Carpenter, Dixon Appear At SONAX Booth in SEMA Show
Tom Blattler
Ed Carpenter Racing
November 5, 2013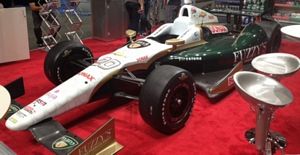 Fuzzy's Vodka Chevy is part of the SONAX Booth at the SEMA Show
November 5th 2013 - LAS VEGAS – Newly-crowned IndyCar Series champion Scott Dixon and Indy 500 pole winner Ed Carpenter will appear at the SONAX booth (North Hall, No. 12167) this week in the SEMA Show at the Las Vegas Convention Center.
Dixon, driver of the No. 9 Target Chip Ganassi IndyCar machine, will meet SEMA Show attendees at the SONAX booth this Wednesday, Nov. 6, from 11 a.m. to 12:30 p.m. PDT. Carpenter, team owner/driver of the No. 20 ECR/Fuzzy's Ultra Premium Vodka Chevrolet, will appear at the SONAX booth this Thursday, Nov. 7, from 11 a.m. to 1 p.m. Carpenter's Fuzzy Vodka IndyCar also is on display at the SONAX booth this week at the SEMA Show.
SONAX, a leading manufacturer of premium car care products worldwide, is the Official Automobile Detail Partner of INDYCAR and the IndyCar Series. SONAX expanded its motorsports involvement with its INDYCAR partnership and also serves as an official team supplier of Red Bull Racing, the four-time championship Formula One organization.
Dixon, the 2008 Indy 500 champion, made history in July at the Honda Indy Toronto when the Target driver captured both main events. In pulling off the dominant performance, Dixon also won the inaugural SONAX "Perfect Finish" Award and an extra $100,000 in becoming the first IZOD IndyCar Series driver to win two road racing features in the same weekend. Dixon led 95 of the 170 laps of competition at Toronto.
SONAX, INDYCAR's Official Automobile Detail Partner, established the 2013 "SONAX Perfect Finish Award" earlier this year to be presented to any IndyCar Series driver who wins both races on a doubleheader weekend at either of the Detroit, Toronto or Houston events. Under the new partnership, the SONAX Award will coincide with launch of SONAX's new Perfect Finish polish.
"The SONAX Award was special this year and I want to give a big thanks to SONAX for giving out this bonus," said Dixon, who won four IndyCar Series races in 2013. "It was great for SONAX to post such a big check and to have them in the sport. It's been a long time since we have had that kind of extra prize money up for a weekend of racing."
"SONAX has outstanding products that I have been using on my personal cars for many years," said Carpenter. "Our ECR/Fuzzy's racing team uses SONAX Products for a variety purposes too."
"We are very excited to have IndyCar Series champion Scott Dixon and Indy 500 polesitter Ed Carpenter join us for the SEMA Show this year," said Rob McCrary, managing director for SONAX U.S.A. "Scott was the first winner of the SONAX 'Perfect Finish Award' with his double victories at Toronto this year and Ed has been a great spokesperson for us all year. The SEMA Show guests should have a great time meeting the two outstanding racers and having the chance to see the next SONAX products."
The SONAX brand's history goes back to the beginning of the last century. In Neuburg, Germany, from as early as 1905, the great grandfather of the present owner, extracted siliceous earth - an extremely fine mineral which was used in many domestic polishes. After the World War I, a silver polish was developed and marketed under the name "Sona." The idea of creating a car polish was born.
SONAX offers a highly competitive and extensive range of products for the cleaning and care of vehicles. SONAX establishes a brand as a manufacturer and supplier of environmentally pro-active and innovative products.
Connect with The Crittenden Automotive Library