Carpenter Charges to 4th Sunday at Iowa, ECR Car Fastest at the Finish
Carpenter Charges to 4th Sunday at Iowa, ECR Car Fastest at the Finish
Tom Blattler
Ed Carpenter Racing
June 23, 2013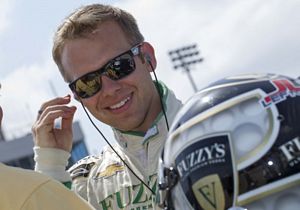 Ed scores 4th in Iowa Corn Indy 250
June 23rd 2013 - NEWTON, Iowa – Ed Carpenter put on another exciting charge from behind Sunday in the Iowa Corn Indy 250 when the IZOD IndyCar Series' only team owner/driver came from tenth to fourth in the final 35 laps at the fast, high-banked Iowa Speedway.
The driver of the No. 20 Fuzzy's Ultra Premium Vodka Chevrolet, Carpenter, led for 18 laps late of the event before his final green flag pit stop in the 250-lapper. Ed immediately began his charge by passing Marco Andretti followed by Oriol Servia, Simon Pagenaud, Helio Castroneves and finally Graham Rahal. He slid by Rahal with two laps to go in the race.
Carpenter's fourth place finish Sunday was his best finish at the Iowa Speedway and marked the first time the Indianapolis racer led at the oval. His previous best was sixth in 2007 in the inaugural IndyCar Series race in Iowa. Last year, Ed placed eighth at Iowa in his new team's "rookie" campaign.
In addition, Carpenter clocked the fastest race lap with a 179.055 mile per hour speed on lap 221.
The 2013 Indy 500 pole winner moved from his fourth starting position Sunday to run second by lap 32 and closed the gap on eventual winner James Hinchcliffe before the ECR/Fuzzy's team's first pit stop on lap 40.
At the restart, the Fuzzy's machine pressured Hinchliffe early, running second until lap 77. Unfortunately, the Fuzzy's machine developed an understeer problem and Carpenter fell back to tenth by lap 114. After some front wing adjustments in the pits on lap 117, Ed moved from 13th to fourth on lap 193. He led the event from 196 to 213 before his final pit stop.
In the last 35 laps, Carpenter was clocking laps some eight miles per hour faster than the leaders and Ed began carving his way through the field before running out of laps. Carpenter has now moved into a tie for 13th in the current IZOD IndyCar Series with Charlie Kimball. Both have 193 markers, 11 behind Dario Franchitti for 12th.
The ECR/Fuzzy's team quickly turns the car around for a Tuesday test at Pocono International Raceway in preparation for the July 7 Pocono 400, the first IndyCar Series race at the "Tricky Triangle" 2.5-mile oval since 1989.
"It was a good run for the Fuzzy's Vodka Chevy team," said Carpenter after his second top-five finish in 2013. "We moved up to the front early and, then on the second stint, we had an understeer condition that sent us back in the field a little. It was a long slow fight to the front again after that. The Fuzzy's guys gave me a great car today and we probably weren't as aggressive enough early in the race on our changes. But we made all of the right changes late and we were fast at the end. I think we had a car fast enough to win today. Our last green flag pit stop didn't go as we wanted, but we came back and nearly got a podium today. Overall, we still got a top-five finish today so it wasn't a bad day for us. This is a really fun place to race. There were multiple lanes today and I ran both the low and the high groove. It seemed like others were only good in one lane. I just wish the race was a little longer for us because we were closing fast on the leaders. But we'll move on and go to Pocono. I'm really looking forward to that race."
Connect with The Crittenden Automotive Library