Carpenter Takes 2nd, 6th in Iowa Heats Saturday, Starts 4th Sunday
Carpenter Takes 2nd, 6th in Iowa Heats Saturday, Starts 4th Sunday
Tom Blattler
Ed Carpenter Racing
June 22, 2013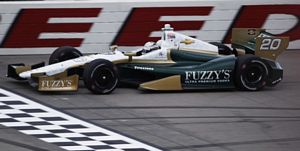 Carpenter Finished 2nd, 6th in Iowa Heats Saturday
June 22nd 2013 - NEWTON, Iowa – Saturday at Iowa Speedway felt like a throwback for Ed Carpenter and his ECR/Fuzzy's Vodka crew.
Carpenter, whose racing career started in the midgets and sprint cars, bounced in and out of his No. 20 Fuzzy's Ultra Premium Vodka Chevrolet as he did in his short track "bullring" days. With practice, qualifying and two heats, Carpenter had a full day on the high-banked 7/8-mile track east of Des Moines.
Carpenter, the 2013 Indy 500 pole winner, clocked in seventh in the one-lap afternoon qualifying session and had to compete in a preliminary 50-lap heat race to transfer to the final 50-lapper and a starting position in Sunday's Iowa Corn Indy 250 set for 2:05 p.m. CDT. The Iowa event will be televised live on ABC-TV.
In the opening heat race, Carpenter started on the pole and led the first 47 laps before he relinquished the lead spot to Graham Rahal. Carpenter had to settle for second but still transferred to the final heat which included the top six qualifiers.
In the final 50-lap heat, Carpenter made a sensational start and jumped from ninth to sixth on the opening circuit. The Indianapolis team owner/driver battled with a variety of drivers throughout the heat race including Rahal, Scott Dixon and Tony Kanaan. At the checkered flag, Ed finished sixth and will start Sunday's Iowa Corn Indy 250 in the outside of the second row.
In the final heat, fast qualifier Helio Castroneves captured the race in a wire-to-wire victory followed by Will Power, James Hinchcliffe, Marco Andretti, Dixon, Carpenter, Takuma Sato, Kanaan, Rahal and Oriol Servia.
"We missed the balance a little bit in the one-lap qualifying," said Carpenter. "We had a little too much understeer. It's too bad it's not a night race because it helps with the grip in the race. It will be a little more slick in the day and will probably be more of a one-groove track. It's easier for a second groove to open up at night. I think more people will run the second grove in the race because there is more banking. Then the low grove won't be as good in the race. You are drafting all of the time here. It's non-stop drafting. This is one of the most physical tracks that we run. Iowa is a little less physical that it used to be because the grip level isn't as high. But it is still a very tough race."
Carpenter was very pleased how his ECR/Fuzzy's crew made the quick changes to his machine between the two heat races.
"We were not too good in our first heat race tonight," he said. "We tried something different. It wasn't very good and I felt fortunate to transfer to the final heat. But the Fuzzy's Vodka crew busted their butts to make some quick changes in between the heats and the car was much better in the final heat. We ran 100 laps today and I think we learned some things for Sunday's race. Unfortunately, it will be in the heat of the day. So I'm hoping our changes in the final heat will help us on Sunday. I definitely feel better about our Fuzzy's Chevy now."
Connect with The Crittenden Automotive Library