ECR Prepared For Strong Iowa Run, Carpenter Ready For Another Charge Sunday
ECR Prepared For Strong Iowa Run, Carpenter Ready For Another Charge Sunday
Tom Blattler
Ed Carpenter Racing
June 19, 2013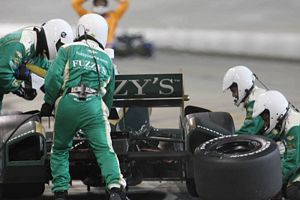 Pit stops will be important at Iowa Speedway this Sunday.
June 19th 2013 - NEWTON, Iowa – Ed Carpenter's racing background includes many "bullring" ovals and his return to Iowa Speedway this weekend fits right into his strength.
The fast, high-banked short oval east of Des Moines has seen some spectacular wheel-to-wheel competition from the IZOD IndyCar Series in the past and this Sunday's Iowa Corn Indy 250 figures to match any previous action when the green flag drops at 2:05 p.m. CDT.
Carpenter, the only driver in the IndyCar Series field with a resume of midgets, sprint cars and Silver Crown machines on the tight dirt and pavement ovals, made an exciting late race charge last year at the 7/8-mile oval, coming from 21st on the starting grid to challenge for a top-five spot. Ed came back from a lap down to take eighth at the checkered flag.
"I felt we should have won that race last year at Iowa," said the 2013 Indy 500 polesitter in the No. 20 Fuzzy's Ultra Premium Vodka Chevrolet. "We were fast enough to win it. We started off the weekend not very good. We didn't qualify well. We got it figured out by the time the race came around but we got a lap down early and worked our way back on the lead lap. In the end we just ran out of race to finish higher."
But the Butler University graduate believes he has some unfinished business at Iowa Speedway this time around.
"I think we learned some things last year that will help this time at Iowa," Carpenter explained. "There is still a fine balance with the car at Iowa. Last year, we gained some downforce and grip at the night time. Now, going back to the day race does pose some additional problems for the cars to be balanced. If it is hot, and they are predicting 90 degrees, the track surface will be tricky. But we have done some off-track testing with the car that should help us."
The IndyCar Series new downforce oval settings for the open-wheel machines have produced some excellent racing as well as boring action at times this year. Carpenter admits that the Texas race was very tough for the drivers with the limited downforce used in the race cars.
"If you are a little too light, as we were in the heat races at Iowa last year, it gets strung out and was very hard to pass. As long as we keep it in balance, it can't be too hard. We have more downforce this time at Iowa. I hope we can put another good show on for the fans at Iowa. They always support the IndyCar Series well and they are tremendous racing fans in Iowa."
The loss of Ed Carpenter Racing general manager Derrick Walker to INDYCAR hasn't hurt Carpenter's racing organization with veteran team manager Tim Broyles taking over the reigns.
"I wasn't sure how it was going to play out managing everything with Derrick moving on," he said. "But Tim has done such a good job it really just let me focus on the things I need to. So, in-season, it's kind of the same for me as a driver as it has always been. I don't have the personality or management style that I'm not going to let those guys do their job. I'm not the person who is going to be a micromanager. If you were a micromanaging type personality, I think it would be impossible to do both."
Carpenter, a two-time IndyCar Series winner (Kentucky 2011 and Fontana 2012), knows the ovals are his "bread and butter" right now and a victory at Iowa Speedway this Sunday is something he would like to add to his racing resume.
"To get a win with our own team at Fontana was something in some ways more special than the first one," said Carpenter. "That first win was fantastic with Sarah's (Fisher) team. They are good friends. But winning with a first-year team and your own team was spectacular. Now we went to continue that winner's circle celebration with Fuzzy's and Iowa would be a great place to do it."
Qualifying for Sunday's Iowa Corn Indy 250 gets underway at 3 p.m. CDT with single-car action followed by qualifying heat races at 5:45 p.m. The main event is scheduled for 2:05 p.m. CDT and will be televised live on ABC-TV.
Connect with The Crittenden Automotive Library