Orange County Choppers Partners with the FBI and the Hudson Valley Chapter of InfraGard to Build an FBI-Themed Chopper
Orange County Choppers Partners with the FBI and the Hudson Valley Chapter of InfraGard to Build an FBI-Themed Chopper
FBI New York Division
August 9, 2010


Photo Credits: FBI New York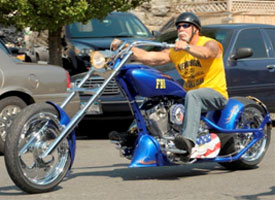 Paul Teutul, Sr. (OCC) on his way to the waterfront in Newburgh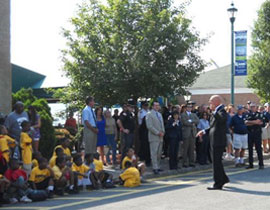 Supervisory Special Agent/Resident Agency James Gagliano preparing the crowd for FBI chopper arrival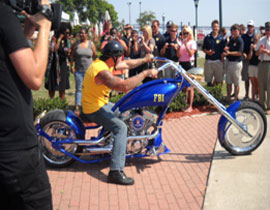 Paul Teutul, Sr. arriving with FBI Chopper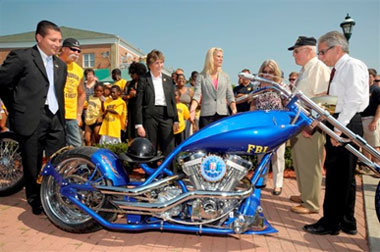 Left to right: SAC Diego Rodriguez, Paul Teutul, Sr., Chairman, InfraGard National Members Alliance Kathleen Kiernan, InfraGard coordinator Maryann Goldman, "Center for Hope" representative Joanne Gurda, New York State Senator Bill Larkin, and Mayor of Newburgh Nicholas Valentine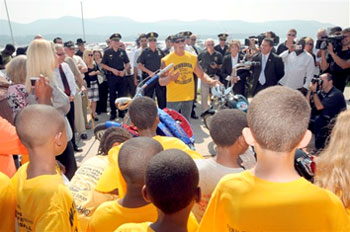 Paul Teutul, Sr. speaking to Newburgh youth from the Boys and Girls Club
An Orange County Chopper with an FBI logo was a unique item created for a fundraising effort to support youth anti-violence in Newburgh, New York. The FBI partnered with the Hudson Valley Chapter of InfraGard and Orange County Choppers (OCC)—a custom motorcycle manufacturer in Orange County, New York run by Paul Teutul, Sr.—to build a custom-made chopper in support of Newburgh youth.
The chopper, unveiled today on the waterfront in Newburgh, attracted a crowd of spectators who waited in anticipation as it made its way down Front Street accompanied by FBI agents and local police. New York State Senator Bill Larkin and Newburgh Mayor Nicholas Valentine joined the crowd along with FBI Special Agent in Charge (SAC) Diego Rodriguez, Assistant Special Agent in Charge (ASAC) Belle Chen, Chairman of the InfraGard National Members Alliance Kathleen Kiernan, InfraGard coordinator and FBI Special Agent Maryann Goldman, and members from the "Center for Hope."
The FBI's InfraGard program is a partnership that creates relationships with the public and private sector to help the FBI protect critical infrastructure and combat major crime trends. The FBI, the Hudson Valley Chapter of InfraGard, and OCC are working with Orange County, the Newburgh Police Department, and community organizations on an awareness building and fundraising campaign to help Newburgh youth stay out of gangs and to reduce the violent crime that is synonymous with the gang culture.
SAC Diego Rodriguez, who oversees the Criminal Division in the FBI's New York Office, was excited to see the arrival of the FBI chopper. "There are approximately one million gang members belonging to more than 20,000 gangs in the U.S. Gangs have long posed a threat to public safety, and gang activity is a problem for cities big and small. In 2009 alone, Newburgh led the state in violent crime per capita. The FBI is proud to partner with OCC, the Hudson Valley Chapter of InfraGard, and the InfraGard National Members Alliance on this unique initiative to reach out to the youth of our communities and help provide them with opportunities to steer their future in the right direction."
Accepting the bike on behalf of the InfraGard National Members Alliance was Chairman Kathleen Kiernan, who added, "We are pleased and excited to support this project, which we hope will have a positive influence on the youth of this community. Projects such as this reinforce our private sector partnerships with the public and demonstrate for our youth the possibility of a life with limitless opportunities."
"I think it's vital that we as OCC get involved with the youth anti-violence campaign in Newburgh. This is the community that we all work and live in, and we are committed through our relationship with InfraGard and the city to ensure that kids in Newburgh know that they've got options outside of gang culture," said Paul Teutul, Sr., founder of Orange County Choppers.
OCC also worked with Infragard community partners in Newburgh by donating another custom "Stop-the-Violence" chopper. This chopper, also built by OCC and debuted this morning, will be raffled off by local partners to raise money for a "Center for Hope," conceptualized and built by InfraGard and community partners in the center of Newburgh for youth at risk of becoming involved in gangs and gang violence. Paul Teutul Sr. helped the kids of Newburgh paint the walls of the "Center for Hope," which his raffle bike will help to support.
The proceeds will help build key educational and recreational programs geared at providing positive alternatives and activities for Newburgh youth and families to help them say no to gangs and violence in their community. The programs, which the kids themselves have identified, include music production, dance, and boxing along with mentoring programs and life skills training, which will teach the kids the self-control, respect, self-confidence, and discipline they need to succeed in life.
Both motorcycles were built at the OCC facility in Newburgh. It is expected that the TLC TV series American Chopper will feature the building of the FBI chopper in an upcoming September episode.
For more information on the FBI's InfraGard program, please visit: http://www.infragard.net/
Connect with The Crittenden Automotive Library