BYD Expands in the Asia-Pacific Auto Market
BYD Expands in the Asia-Pacific Auto Market
BYD
October 11, 2013


BYD's product announcement in Manila.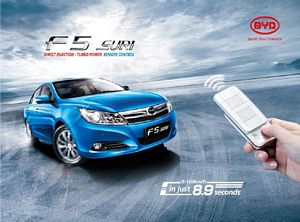 The F5 Suri and its Remote Drive technology
MANILA, PHILIPPINES – BYD continued the worldwide rollout of their three flagship consumer vehicles this past week in the Philippines. Partnering with STAR Corporation, a ceremony was held in the capital city of Manila to introduce the S6, a mid-size sport utility vehicle, the L3, a family sedan, and the F5 Suri with a Five-Star Performance rating in C-NCAP impact test.
The decision to begin offering their premier lineup throughout the Asia-Pacific is in response to encouraging emerging markets data coming from the Philippines. According to the China News Agency, vehicle sales totaled 142,000 in 2011. However, due to steady population growth and a continuous increase in per-capita income, the projections for 2015 are coming in around 300,000 units, more than double. Mark Tieng, general manager of STAR Corporation firmly believes BYD is positioned well to serve this massive increase in demand, "With our (The Philippines), customer demand for a product demonstrating the latest, safest and highest of quality design, BYD has now matured and meets these world-class standards."
Though this is exciting news for the future of BYD, this particular lineup has already met with its share of success in mainland China. Showing that their vehicles can be more than just a good value alternative, the F5 Suri is a technological masterpiece equipped with an industry-first Remote Drive system that allows a driver to control and maneuver the vehicle from yards away with a cloud-interface remote control. Recently it was certified by the C-NCAP as one of the safest sedans, beating many international joint venture brands such as Ford's Kuga and Volkswagen's Santana that participated in the same program. However, packing turbo-charged direct injection engine it performs with the likes of any alternative. Similarly, the BYD S6 has also been a hit. This mid-size sport utility vehicle was a hit in its first year to market, recording so many sales it was named China's SUV of the year. Experiencing a 23% growth rate so far, BYD has already sold over 320,000 vehicles in the first eight month of 2013, this is impressive as China's auto sales have not performed nearly as well as in past years. With their newest creation, The Qin coming to market soon, the future is bright for BYD. For more information, visit www.byd.com , www.facebook.com/bydcompany or email pr@byd.com .
About BYD
"BYD is a publicly-traded company with no Chinese government ownership. In fact, U.S. investors own over 60% of the public stock, with Warren Buffet's Berkshire Hathaway owning 9.9% of that amount. Mr. Buffett and his colleagues recognize BYD's breakthrough battery and EV technologies: an electrified, 24-hour, and long-range battery that provides emission-free, silent, and economic public and private transportation.
As the world's largest manufacturer of rechargeable batteries, BYD's mission is to create safer and more environmentally-friendly battery technologies, and this has produced the BYD Iron Phosphate Battery. This fire-safe, completely recyclable, and incredibly long-cycle technology has become the foundation of BYD's clean energy platforms. For more information, please visit www.byd.com and www.facebook.com/bydcompany.
Connect with The Crittenden Automotive Library