Southeast Asia's Largest Zero-Emissions Electric Bus Order Awarded to BYD
Southeast Asia's Largest Zero-Emissions Electric Bus Order Awarded to BYD
BYD
February 10, 2014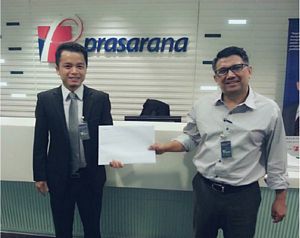 Southeast Asia's Largest Zero-Emissions Electric Bus Order Awarded to BYD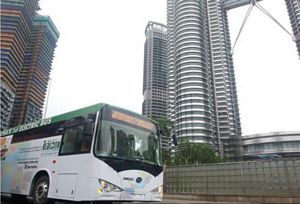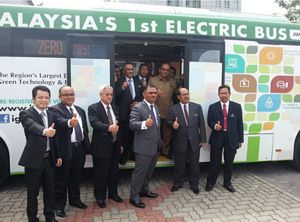 Governor of the state of Malacca Datuk Seri Idris Haron withBYD ebus
Kuala Lumpur – Feb. 10th, 2014, Last month, Malaysia's Prasarana Transit has announced that BYD Co. Ltd. won the bid to supply 15 new battery electric transit buses. As Malaysia first, as well as Southeast Asia's largest electric bus public bidding project, BYD beat out competitors from around the world on for this historic project. The 15 electric buses will be operated by Rapid KL, a Prasarana subsidiary, to be used as shuttle buses on Capital of Malaysia Kuala Lumpur's firsts BRT line exclusively for electric buses. As one of Malaysia's largest public transportation groups, Prasarana is responsible for the management and planning of Malaysia metro, buses and other public transportation assets. Prasarana is 100% state-owned.
Since last August, BYD's 40 foot electric bus has been in trial operation in Kuala Lumpur. As a part of the trial, the bus was arranged to run on a 5.3 km - 7 station, Bus Rapid Transit (BRT) line operated by Rapid KL and the trial operation results are satisfactory and high complimented by Prasarana. According to the report, the range of the pure electric bus could be more than 400 kilometers per charge in Kuala Lumpur.
This year in January, after hosting the BYD pure electric bus trial operation launching ceremony, Mr. Datuk Seri Idris Haron, governor of the state of Malacca, drove the bus himself, and then put his thumb up and stated, " the electric bus is very comfortable and very quiet, we like this kinds of zero emissions bus." As the first all-electric bus introduced to the state of Malacca, the BYD electric bus will be operated in Bandar Hilir area for one to two months. BYD's pure electric bus has passed various local tests in Malaysia earlier.
A BYD representative said, "It's a great honor for us to win the Malaysia's first electric bus bid. Malaysia pays great attention to the sustainable development of public transport, BYD hopes to work closely with all of our partners like Prasarana to make the public transportation cleaner and quieter." Actually, improving the quality of public transport has been incorporated into the national development program in Malaysia. The relative authorities think public transportation is one of the main reasons for urban air pollution, while BYD's pure electric bus is considered to fit this reform direction.
BYD's pure-electric bus employs many advanced technologies developed in-house by BYD's expansive staff of more than 15,000 engineers. The advanced environmentally-friendly, Iron-Phosphate (or "Fe") batteries, in-wheel hub motors and regenerative braking. The break-through BYD Iron-Phosphate battery is fire-safe and non-toxic: there are no caustic materials contained in the battery, no toxic electrolytes or heavy metals and can be completely recycled. The BYD electric bus delivers a host of operational and environmental benefits for public transport riders, operators and people in the community – it is very quiet and ensures a comfortable ride without vibrations, jerks or noise associated with the conventional buses and combustion engines. The bus can also drive for more than 250 km (155 miles) even in heavy city traffic on a single charge. The bus has completed more than 20 million kilometers of "in revenue service" and has been evaluated in many major cities all over the world.
About BYD
BYD Company Ltd. is one of China's largest companies and has successfully expanded globally. Specializing in battery technologies, their green mission to "solve the whole problem" has made them industry pioneers and leaders in several High-tech sectors including High-efficiency Automobiles, Electrified Public Transportation, Environmentally-Friendly
Energy Storage
, Affordable
Solar Power
and Information Technology and Original Design Manufacturing (ODM) services.
As the world's largest manufacturer of rechargeable batteries, their mission to create safer and more environmentally friendly battery technologies has lead to the development of the BYD
Iron Phosphate (or "Fe") Battery
. This fire-safe, completely recyclable and incredibly long-cycle technology has become the core of their clean energy platform that has expanded into automobiles, buses, trucks, utility vehicles and
energy storage
facilities. BYD and all of their shareholders, including the great American Investor Warren Buffett, see these environmentally and economically forward products as the way of the future.
BYD has made a strong entrance to the North, Central and South American markets with their
battery electric buses
, and lineup of automobiles. Their mission lies not just in sales growth, but also in sociological integration and local job creation as they have poured incredible investments into developing offices, dealerships and manufacturing facilities in the local communities they now call home, truly a first for Chinese companies. For more information, please visit
www.byd.com
or
www.facebook.com/bydcompany
.
Connect with The Crittenden Automotive Library