Electric private hire cars launched in London
Electric private hire cars launched in London
BYD
February 12, 2014


BYD e6 passing the Big Ben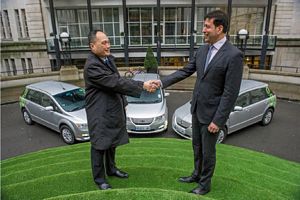 Isbrand Ho, managing director of BYD Europe and Arvind Vij, co-founder of Thriev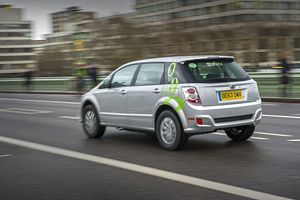 Green service of BYD e6 for Londoners
Privatehire chauffeur operator Thriev has launched a fleet of 20 zero-emission,fully-electric BYD e6 cars in London, the first 10 of which go into servicetoday powered by a London-wide charging network rolled out by British Gas.
Thriev offers low-cost, zero-emission, chauffeured vehicles to corporate and private users in London. The BYD e6 is ideally suited for private hire operations, providing a range of up to 300 km(186 miles) and the 20 private hire cars will be able to be recharged both at the depot and on the road thanks to British Gas.
The new fleet is the result of a shared 'green city solution' vision, to bring reliable, emission-free transport to London's roads, replacing petrol and diesel powered vehicles with electric ones. The 20 BYD e6 vehicles operated by Thriev join two fully-electric BYD buses that are already in service with Go-Ahead Group on two central Transport for London routes.
The Thriev service will rely on a brand new city-wide charging network installed by British Gas, which has been leading the delivery of the UK's charging infrastructure for electric vehicles since 2010. The first rapid chargers, made by BYD and capable of charging an e6 to 80% in just 30 minutes, have already been installed at Thriev's Edgware Road facility. As the service expands across the UK, creating one of the largest of its kind, it will eventually see each unit of electricity matched with a unit of 100% British renewable electricity.
Matching the latest vehicle technology is Thriev's use of the latest smartphone technology in the form of its booking app. The app, available for Apple and Android devices, allows customers to book a car in just three clicks. GPS allows the vehicle to be tracked in real-time on a map and the app also retains a history of previous reservations in the last 30 days for expense management and allows users to quickly rebook a repeat trip.
Arvind Vij, CEO and a co-founder of Thriev, said: "We are delighted to see the new BYD e6 private hire vehicles, which feature our unique branding, go into service in London. Thriev offers its customers a true revolution in transport, using modern technology to offer private hire services. Ultimately, our aim is to provide a zero emission and cost effective alternative to private car ownership in congested large cities like London."
Isbrand Ho, Managing Director of BYD Europe, said: "It is great to see our e6 on the roads of London in private hire service only a matter of weeks after we became the first manufacturer to have fully-electric buses in operation in the capital, too. We are delighted to be working with Thriev, which shares our vision to provide safe, reliable and efficient green transport in cities".
Andreas Atkins, Head of Electric Vehicle Services at British Gas, said: "Innovations like Thriev make it possible for us to travel around with the best of both worlds, making major reductions in our carbon footprints and saving money at the same time. We're aiming to convert 10% of our fleet to electric vehicles by 2015, and we're glad to be helping other businesses to do the same."
About Thriev
Thriev is Britain's first of a kind private hire chauffeur service that aims to revolutionise transportation within London. Having launched in September 2013, the company boasts a fully-electric, zero-emission fleet and has ambitious plans for rapid expansion. Thriev's mission is to work together with multiple stakeholders, ranging from governmental bodies and NGOs to large FTSE 100 corporations. The partnerships formed by Thriev will influence not only the company's immediate users, but also everyone in the capital by providing a cleaner, safer and more sustainable environment for London.
Thriev demonstrates that it is both a frontrunner in utilising the advances of modern technology and a commercially viable organisation by offering its services at a price that is on average far lower than that of its competitors. In addition, Thriev aims to minimise even further its impact on the environment by striving to source the electricity needed for running its fleet from renewable sources and maximally utilising the nation's electricity network (e.g. overnight recharging). The company is keeping on top of the game by overcoming the conventional challenges posed by operating electric vehicles through installing its own state-of-the-art, rapid technology chargepoint network that is on average 12-14 times more efficient than the majority of installed chargepoints.
The practical implication of using innovative companies like Thriev is that with every five-mile journey undertaken by just one of its vehicles, it prevents 1kg of carbon dioxide from being released into the atmosphere, along with a myriad of other harmful gases, emissions and particulates. In the long run, this will contribute to substantially reducing every client's carbon footprint, whilst maximising their budgets, freeing up valuable funds for other purposes. For further information on Thriev, please visit: www.thriev.com, https://twitter.com/thriev, http://www.linkedin.com/company/thriev or email: office@thriev.com.
About British Gas
British Gas is the UK's leading energy supplier, and serves around 12 million homes in Britain – nearly half the country's homes – as well as providing energy to one million UK businesses. British Gas provides value for money, dedicated customer service, innovative energy solutions and the highest quality Home Services expertise in the country.
British Gas is also leading the roll out of the charging infrastructure which is making electric vehicles a viable option for British motorists. Our network of more than 650 expert electricians can help make electric cars and vans more accessible through charging point installations, dedicated tariffs for electric vehicle owners and tailored advice and support on making the transition to electric. British Gas is currently offering a nationwide free charging package, partly subsidised by funding from the Office for Low Emission Vehicles. Find out more at www.britishgas.co.uk.
About BYD
BYD Company Ltd. is one of China's largest companies and has successfully expanded globally. Specializing in battery technologies, their green mission to "solve the whole problem" has made them industry pioneers and leaders in several High-tech sectors including High-efficiency Automobiles, Electrified Public Transportation, Environmentally-Friendly
Energy Storage
, Affordable
Solar Power
and Information Technology and Original Design Manufacturing (ODM) services.
As the world's largest manufacturer of rechargeable batteries, their mission to create safer and more environmentally friendly battery technologies has lead to the development of the BYD
Iron Phosphate (or "Fe") Battery
. This fire-safe, completely recyclable and incredibly long-cycle technology has become the core of their clean energy platform that has expanded into automobiles, buses, trucks, utility vehicles and
energy storage
facilities. BYD and all of their shareholders, including the great American Investor Warren Buffett, see these environmentally and economically forward products as the way of the future.
BYD has made a strong entrance to the North, Central and South American markets with their
battery electric buses
, and lineup of automobiles. Their mission lies not just in sales growth, but also in sociological integration and local job creation as they have poured incredible investments into developing offices, dealerships and manufacturing facilities in the local communities they now call home, truly a first for Chinese companies. For more information, please visit
www.byd.com
or
www.facebook.com/bydcompany
.
Connect with The Crittenden Automotive Library