FOR IMMEDIATE RELEASE:

PSCA's Street Car Super Nats IX Poised to be Biggest Ever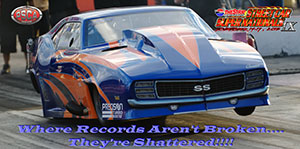 Contact:


Brandon W. Mudd
PR@HighSideMedia.com
636-219-9676
LAS VEGAS –
With racers registered from all over the U.S., Canada, Puerto Rico, and even Sweden, this weekend's Pacific Street Car Association's Street Car Super Nationals IX could be the biggest yet. The event, held again at The Strip at Las Vegas Motor Speedway, will be covered by more than 25 international media outlets.
"We're ready to go," said PSCA President Mel Roth. "We put a lot of hard work into every one of our events, but there's something special about the Street Car Super Nats. For a lot of racers, it's the final event of the year and they push a little harder than they would at an event during the season, and the fans know they're going to see some amazing passes on one of the best-prepped tracks in the country.
"By the time the dust settles Sunday night, we're going to see speed and time records shattered."
Qualifying kicks off Thursday at 12:30 p.m. local time except for the two Pro Mod classes with on-track action starting Friday-Sunday at 8 a.m. The Pro Mod classes are on display Thursday night with the DayStar Pro Mod Shootout. Gates open every day at 7 a.m.
Single-day adult passes are $35 with two-day adult passes going for $50 and a full weekend pass at just $70. Kids are only $8 for one day, $15 for two-day passes, and $20 for the full weekend ticket. Children five and under are free.
For the full weekend schedule, click
HERE
.
Fans of the Pacific Street Car Association can find updates and photos of PSCA racers and events by checking out PSCARacing.com, Twitter.com/PSCARacing, and Facebook.com/PSCARacing. Videos of PSCA drag racing action can be found at YouTube.com/PSCARacing.
Racers and fans can also visit the PSCA's official page on Facebook to find photos, stories, and videos of the best drag racing in the country.

Get PSCA Stuff: Represent the Pacific Street Car Association and West Coast drag racing by visiting our online store! The official PSCA store has everything for fans and racers of all ages, including hats, shirts, DVDs, and more at huge discounts. Click HERE to start shopping!
-PSCA-
About the Pacific Street Car Association:
In its 14
th
season, the Pacific Street Car Association, based in Las Vegas, has been a staple of West Coast drag racing since its inception. With six heads-up classes, four bracket classes, and two index classes, the PSCA provides some of the best racing in the country for both fans and racers. The PSCA season is capped off by its Street Car Super Nationals at The Strip at Las Vegas Motor Speedway, now in its ninth year.
About HighSide Media
Founded in 2007, HighSide Media has represented some of the top drivers, teams, facilities, sponsors, and sanctions in American motorsports. HighSide Media provides public and media relations for racers at every level with tailor-made programs for every budget. Pass YOUR Competition on the HighSide.