FOR IMMEDIATE RELEASE:

Coughlin Earns Second Straight SCSN Title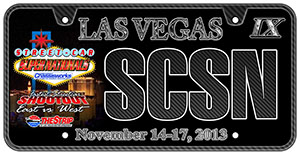 Contact:


Brandon W. Mudd
PR@HighSideMedia.com
636-219-9676
LAS VEGAS –
For the second consecutive year, former NHRA Pro Mod champion Troy Coughlin faced the newly-crowned quickest doorslammer car in the world in the Pacific Street Car Association's Street Car Super Nationals finals. And for the second year, Coughlin ended the weekend in the Winner's Circle. This year was a little more satisfying, however, as Coughlin actually raced his opponent.
Last year, Jose "El General" Gonzalez could not make the call to the finals after being unable to repair his car in time after it suffered engine damage in the semifinals. This year, John Stanley, the top qualifier in TheEFIStore.com Outlaw Pro Mod class on the strength of a record-setting 5.644-second pass he ran on Friday, staged across from Coughlin in the final, but the result was the same. Coughlin ran a 5.914-second ET to top Stanley's 6.468.
"It definitely makes it more exciting when there's two cars going down the track instead of just one," Coughlin said after the finals. "(Stanley) must have been broke or had something off. We were out in front and he wasn't there, so I didn't want to take a chance of hurting the engine at the finish line. How exciting to (win this event) twice, let alone once. This is a big race and I'm pretty excited.
"It was neat to see TheEFIStore.com sponsor this class and (PSCA President) Mel Roth did a nice job putting all this together."
For Roth, Street Car Super Nationals IX was a fulfilled promise to the racers and the fans that this event would be better than the last, a promise that has been made and kept after every race. "I just can't say enough about how great these racers are and how the battle on the track," he said. "I honestly don't know that you can find a better weekend of drag racing anywhere in the country. And the fans...these fans come early, they stay late and they appreciate great drag racing.
"It's this kind of racing we plan to bring to St. Louis next August for Anarchy Under The Arch, our first Street Car Super Nationals that is being run outside of Las Vegas. But don't worry, we're going to be back in Vegas next year, too."
In the Precision Turbo Pro Mod class, Joe Delehay beat Eric Latino on a holeshot with a 6.026-second lap to Latino's 5.986 thanks to a reaction time of .046 seconds. Ken Sihota red-lit by .004 seconds to give the MagnaFuel Outlaw 10.5 title to Steve Nicholson. Jeff Kyle won the MagnaFuel X-Treme Drag Radial class on a solo run after top qualifier Roger Holder was unable to get his car to the line. In the Mickey Thompson Wild Street class, Chase Driskall took the victory over Eric Gustafson and in the Steve Schmidt Outlaw 8.5 class, Scott Bieschke topped Anthony Smith.
In the AOS/Unlimited Hot Street class, Michael DeMayo earned the win over Vic Brum, Jacob Evans scored a holeshot win over Paul Quinnett in the Calvert Street Muscle class, and Rob Strong beat Fred Johnson in Brodix Bracket 1 action. Don McDavitt was crowned the Goodyear Open Comp champ after his victory over Theodore Logan red-lit by .012 seconds, Stephen Porcho scored the win over Briant Wiltz in the Accufab Mustang Madness, and Greg Scott beat Scott Horsely in Ross Triple Index. Finally, Jaclyn Generalao took home Edelbrock Super Index honors after Nick Kendrick broke out.
Fans can look back at the event on the event's official page on Facebook at Facebook.com/StreetCarSuperNationals for full results, photos, and videos.
Fans of the Pacific Street Car Association can find updates and photos of PSCA racers and events by checking out PSCARacing.com, Twitter.com/PSCARacing, and Facebook.com/PSCARacing. Videos of PSCA drag racing action can be found at YouTube.com/PSCARacing.
Racers and fans can also visit the PSCA's official page on Facebook to find photos, stories, and videos of the best drag racing in the country.

Get PSCA Stuff: Represent the Pacific Street Car Association and West Coast drag racing by visiting our online store! The official PSCA store has everything for fans and racers of all ages, including hats, shirts, DVDs, and more at huge discounts. Click HERE to start shopping!
-PSCA-
About the Pacific Street Car Association:
In its 14
th
season, the Pacific Street Car Association, based in Las Vegas, has been a staple of West Coast drag racing since its inception. With six heads-up classes, four bracket classes, and two index classes, the PSCA provides some of the best racing in the country for both fans and racers. The PSCA season is capped off by its Street Car Super Nationals at The Strip at Las Vegas Motor Speedway, now in its ninth year.
About HighSide Media
Founded in 2007, HighSide Media has represented some of the top drivers, teams, facilities, sponsors, and sanctions in American motorsports. HighSide Media provides public and media relations for racers at every level with tailor-made programs for every budget. Pass YOUR Competition on the HighSide.