Sao Paulo Transit Completes Successful Trials of the 40-Foot BYD Pure-Electric Bus
Sao Paulo Transit Completes Successful Trials of the 40-Foot BYD Pure-Electric Bus
BYD
December 4, 2013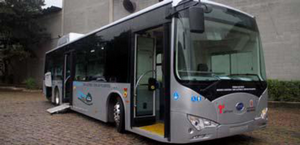 Pictured Above: The 40ft BYD Battery-Electric Bus
Revenue Service starting in March 2014
SAO PAULO, BRAZIL Dec 4th, 2013:--Beginning in March of 2014 there will be two new faces on the streets of Sao Paulo, Brazil. In an effort to introduce non-polluting transportation solutions for the people of Sao Paulo, Sao Paulo Transit (SPTrans) has partnered with the world's largest electric bus manufacturer -- BYD Company Ltd. Public transportation plays a key role in São Paulo commerce. São Paulo has one of the largest bus systems in South America with a fleet of over 16,000 buses run by SPTrans. BYD is known worldwide for battery-electric buses, cars, renewable energy solutions and battery technologies, and BYD Motors (the Americas' entity) will be delivering two new buses to the city for revenue service in first quarter 2014. With Brazil sponsoring the upcoming World Cup and Olympic Games, they are gearing up to be one of the world's most sought-after venues.
Sao Paulo Transit has completed a successful pilot program conducted by the city which concluded that the battery-electric bus was effective on over 80% of routes currently in operation. With an overnight charge (conducted off-peak), the bus was found to have an average of 250 kilometers in operational service. "Our tests were designed to demonstrate the performance of the e-bus running on the streets of Sao Paulo, such as its braking performance and so on. The electric bus was filled with a weight equivalent to a full load of passengers and run on bus lanes and other designed lines in Sao Paulo," said João Carlos Fagundes, SP Transit Engineering Division Manager.
The same BYD bus design has successfully completed similar pilot programs world-wide. Currently BYD's Battery-Electric bus has proven its capabilities on operational routes in Europe, North America, Central America, the Caribbean, Asia as well as in the neighboring South American nation of Colombia.
About BYD
BYD Company Ltd. is one of China's largest companies and has successfully expanded globally. Specializing in battery technologies, their green mission to "solve the whole problem" has made them industry pioneers and leaders in several High-tech sectors including High-efficiency Automobiles, Electrified Public Transportation, Environmentally-Friendly
Energy Storage
, Affordable
Solar Power
and Information Technology and Original Design Manufacturing (ODM) services.
As the world's largest manufacturer of rechargeable batteries, their mission to create safer and more environmentally friendly battery technologies has lead to the development of the BYD
Iron Phosphate (or "Fe") Battery
. This fire-safe, completely recyclable and incredibly long-cycle technology has become the core of their clean energy platform that has expanded into automobiles, buses, trucks, utility vehicles and
energy storage
facilities. BYD and all of their shareholders, including the great American Investor Warren Buffett, see these environmentally and economically forward products as the way of the future.
BYD has made a strong entrance to the North, Central and South American markets with their
battery electric buses
, and lineup of automobiles. Their mission lies not just in sales growth, but also in sociological integration and local job creation as they have poured incredible investments into developing offices, dealerships and manufacturing facilities in the local communities they now call home, truly a first for Chinese companies. For more information, please visit
www.byd.com
or
www.facebook.com/bydcompany
.
Connect with The Crittenden Automotive Library