Neary Heads MADA
Neary Heads MADA
Florida Automotive Journal
December 1970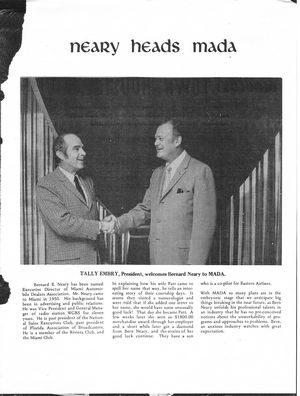 Tally Embry, President, welcomes Bernard Neary to MADA.
Bernard E. Neary has been named Executive Director of Miami Automobile Dealers Association. Mr. Neary came to Miami in 1950. His background has been in advertising and public relations. He was Vice President and General Manager of radio station WGBS for eleven years. He is past president of the National Sales Executives Club, past president of Florida Association of Broadcasters. He is a member of the Riviera Club, and the Miami Club.
In explaining how his wife Patt came to spell her name that way, he tells an interesting story of their courtship days. It seems they visited a numerologist and were told that if she added one letter to her name, she would have some unusually good luck! That day she became Patt. A few weeks later she won an $1800.00 merchandise award through her employer and a short while later got a diamond from Bern Neary, and the stories of her good luck continue. They have a son who is a co-pilot for Eastern Airlines.
With MADA so many plans are in the embryonic stage that we anticipate big things breaking in the near future, as Bern Neary unfolds his professional talents in an industry that he has no pre-conceived notions about the unworkability of programs and approaches to problems. Bern, an anxious industry watches with great expectation.
Connect with The Crittenden Automotive Library