Aero Tec Laboratories Ltd (ATL) has been a supplier of safety fuel bladder tanks to the motorsport market for over 41 years. Having exclusively supplied the entire Formula One grid for nearly two decades, ATL are now firmly established as the market leader.
ATL are now also increasingly recognised as a leading supplier to the defence and aerospace sectors, having been selected as the fuel system supplier to Force Protection Europe's 'Foxhound LPPV'.
This 'Light Protected Patrol Vehicle' represents one of the UK MoD's most significant vehicle procurements of recent years, and ATL are proud to have assisted with the design and development of the fuel system, and to have supplied all prototype and production fuel tanks for this groundbreaking vehicle.
"It has taken a number of years to get ATL into a position where it can secure and sustain a contract of this nature. ATL is extremely honoured to have been chosen for this project - it is a great moment in the history of ATL. Being recognised by such a key player in the defence industry demonstrates that ATL has capabilities and skill sets which are of proven relevance to industries outside of motorsport," said ATL's Commercial Director, Kevin Molloy.
The Foxhound LPPV features two steel diesel tanks - a main undercarriage tank and a 'get me home' reserve tank located in the engine bay. Despite being steel tanks (as opposed to ATL's well-known lightweight and robust flexible safety bladders), ATL's experience with the design of sophisticated fuel systems has enabled it to contribute valuable expertise to the Foxhound project.
Following the success of its first production run, ATL is set to begin production of a second, large batch of fuel systems in late 2012.
Internationally, ATL is also involved in the supply of fuel systems to several other confidential land-based defence vehicle projects and to an ever-growing number of Unmanned Aerial Vehicle (UAV) projects.
The demands of UAV design match ATL's core motorsport qualities of reliability, complete fuel scavenge and light weight. ATL has spent decades fine-tuning its manufacturing process, to reduce the weight of its fuel bladders and ancillaries. Demonstrating further commitment to this new industry, ATL has developed a new super-lightweight bladder material specifically for UAV applications. By demonstrating this level of commitment to innovation, ATL are fast establishing themselves as the market leader in yet another industry.
With ATL's involvement in defence and aerospace increasing by the day, the decision has been made to exhibit at DVD 2012 (formerly Defence Vehicle Dynamics) at Millbrook Proving Ground on 20/21 June. Hosted by the UK MoD's Defence Equipment & Support (DE&S) group, attendance of DVD will enable ATL to participate in informal discussions with military and procurement personnel, as well as meet with other businesses within the defence industry - many of which are also involved in motorsport.
Come and visit ATL at DVD 2012 - Stand C3-151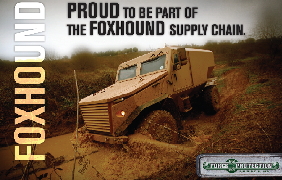 -ends-
Supplier to Force Protection Europe (Foxhound vehicle shown).
The Foxhound LPPV (Light Protected Patrol Vehicle) represents one of the UK MoD's most significant vehicle procurements of recent years.
NOTES FOR EDITORS
ABOUT ATL
Aero Tec Laboratories (ATL) was founded in 1970 as a design and testing facility for "flexible composite" materials. Shortly thereafter, the firm broadened its scope to include the actual fabrication of end products from its own outstanding fibre/elastomer composites. This led to the development of ATL's remarkable bladder-type cells, which deform under high-energy impacts.
From ambitious beginnings in engineered inflatables and crashworthy fuel cell bladders, ATL has further spread its technologies into compensators, accumulators, potable water vessels, self-healing ballistic tanks, bulk storage bladders and scores of similar endeavours. The common thread among ATL's products is the remarkable toughness and durability coupled with extreme light weight, high flexibility and compactness.
With ATL's ongoing development into high performance fabrics and complete fuel system products, ATL remains the World leader in fuel cell design and technology, and is a supplier to every Formula 1 team.
Please explore our website for more information about ATL's many products at www.atlltd.com.
CONTACT INFORMATION
Press Enquiries
Adam Pointer,
Aero Tec Laboratories Ltd,
One Patriot Drive,
Rooksley, Milton Keynes
MK13 8PU, UK.
Email: apointer@atlltd.com
Tel: +44 (0)1908 351700
Fax: +44 (0)1908 351750
High resolution images are available on request - please contact Adam Pointer (above).
[Press release distributed by CDWrite on behalf of Aero Tec Laboratories (ATL). To unsubscribe from all CDWrite email lists, please reply with "STOP" as the subject line]
4of12/e&oe/ends/