Ginetta has announced plans for the 2012 ATL Racing Fuel Cells Ginetta Junior Winter Series, which is set to take place at Rockingham Motor Speedway on Saturday 10 November using the ISS configuration of the Corby circuit.
The event will feature one qualifying session plus three races, and the points system will reflect that of the current Ginetta Junior Championship, with further points on offer for pole position for the first two races and fastest laps in all three races.
The series will run to an adapted set of the 2012 Ginetta Junior Championship regulations, incorporating the 2013 tyre regulations, which reflects the Yorkshire marque's decision to switch from race to road tyres for the 2013 season.
Grids for race one and two will be determined in the usual way of first and second fastest times in qualifying, with the grid for the third race determined by the finishing order of the second race.
Max Gregory, Ginetta Championships Manager said: "The ATL Racing Fuel Cells Ginetta Junior Winter Series is a good opportunity for both prospective teams and drivers to have a competitive taste of the Ginetta Junior Championship. It also gives current drivers and teams the opportunity to try out the new tyres and regulations prior to next season. The new tyre also negates the need for a wet tyre, so the complete tyre budget per driver will be £220+VAT."
Prizes on offer include a 50percent discount on entry into the 2013 Ginetta Junior Championship for the overall winner, plus £1,000 parts credit for the runner-up and two sets of 2013 spec Michelin tyres for third place. There will be an additional "Hard Charger" prize of a set of tyres for the driver gaining the most places from his/her respective grid position over the three races.
Ginetta Chairman Lawrence Tomlinson said: "The Ginetta Junior Winter Series is an excellent prospect for 14-17 year-old drivers looking to get into motorsport for the first time, or step up from karting, to drive a race car at one of the UK's most prestigious circuits."
The ATL Racing Fuel Cells Ginetta Junior Winter series not only offers current Ginetta Junior drivers a chance to win a Ginetta title, but provides an opportunity for those interested in joining the Ginetta Junior Championship for 2013 to test their skills in a Ginetta G40 car.
Giles Dawson, Managing Director of ATL Racing Fuel Cells said: "ATL has been sole supplier of Formula One fuel cells for 16 seasons now, and the time has come to invest back into motorsport at a grass roots level, and what better way to do this than attracting young, fresh talent into the first rung of the car racing ladder."
"What Lawrence and his team have put together for 2013 is phenomenal and demonstrates a commitment to reduce the cost of motorsport at a national level, while maintaining Ginetta's outstanding safety record - which has been demonstrated on many occasions. We share this same vision, so when we were approached, we couldn't say no."
Ginetta would like to extend their thanks to ATL Racing Fuel Cells and Protyre Motorsport for working alongside them towards the combined goal of supporting young people in motorsport - whether that be as they make their first steps into racing, or ascend the career ladder from karting or other series.
Previous Winter Series champions include Josh Hill (2008), current Clio Cup driver Aaron Williamson (2009) and 2011 Ginetta Junior champion and current Formula BARC Renault driver Seb Morris (2010), as well as George Gamble (2011).
- ends -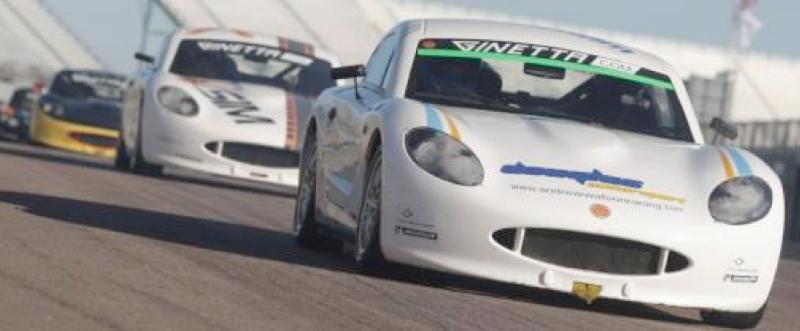 Ginetta G40 Juniors racing at Rockingham. ATL is proud to support grass-roots motorsport - the ATL Racing Fuel Cells Ginetta Junior Winter Series will take place at Rockingham Motor Speedway on Saturday 10 November.
NOTES FOR EDITORS
ABOUT ATL
Aero Tec Laboratories (ATL) was founded in 1970, as a design and testing facility for "flexible composite" materials. Shortly thereafter, the firm broadened its scope to include the actual fabrication of end products from its own outstanding fibre/elastomer composites. This led to the development of ATL's remarkable bladder-type cells, which deform under high-energy impacts.
From ambitious beginnings in engineered inflatables and crashworthy fuel cell bladders, ATL has further spread its technologies into compensators, accumulators, potable water vessels, self-healing ballistic tanks, bulk storage bladders and scores of similar endeavours. The common thread among ATL's products is the remarkable toughness and durability coupled with extreme light-weight, high flexibility and compactness.
With ATL's ongoing development into high performance fabrics and complete fuel system products, ATL remains the World's leader in Fuel Cell Design and Technology, and is a supplier to every Formula One team.
Please explore our website for more information about ATL's many products - www.atlltd.com
CONTACT INFORMATION
Press Enquiries
Adam Pointer,
Aero Tec Laboratories Ltd,
One Patriot Drive,
Rooksley, Milton Keynes
MK13 8PU, UK.
Email: apointer@atlltd.com
Tel: +44 (0)1908 351700
Fax: +44 (0)1908 351750
High resolution images are available on request - please contact Adam Pointer (above).
[Press release distributed by CDWrite on behalf of Aero Tec Laboratories (ATL). To unsubscribe from all CDWrite email lists, please reply with "STOP" as the subject line]
8of13/e&oe/ends/