Moving from the 25,000 sq ft building which ATL Ltd has called home for 13 years, ATL will relocate all of its office and production facilities to a 100,000 sq ft site in Denbigh, Milton Keynes - just four miles south of its current Central Milton Keynes location.
This means that ATL will still be ideally located for most motorsport customers and will only be 20 minutes away from Silverstone.
The move will coincide with the appointment of Will Goff (former Mercedes AMG F1 Quality Manager) as ATL's Head of Quality - bolstering a raft of major quality developments at ATL, which have included the introduction of on-screen 3D manufacturing instructions for production technicians and the integration of a full ISO9001 Quality Management System (QMS), of which a Stage 1 audit has been successfully completed.
ATL is now involved with several on-going aerospace, defence and marine projects, which justify their own production areas. With such a large amount of floor space available, project-specific modular production bays can now be introduced, along with dedicated areas for the assembly of particular types of cells, such as UAV fuel cells and pillow-style fluid bulk-storage (10,000+ litres) bladders. Research, development and testing are big aspects of these projects, so it will be possible to dedicate more room to installing custom testing rigs, jigs, and any other prototype validation hardware.
Sales of metallic tanks and containers (for fuel, oil, water and other fluids) into defence and motorsport continue to increase, so the availability of extra space will allow more fabrication bays to be created and new CNC machining centres to be installed - helping to maintain growth in this area of the business.
Modern office suites already exist within the new building and the office layout will allow for important expansion of the Design Department, which is necessary given ATL's ever-increasing portfolio of defence and aerospace customers. Sales and Design staff will now be located in closer proximity to the Production Management and Quality Control Departments, offering improved contact with prototype builds and work in progress.
The establishment of permanent, purpose-built showroom displays will mean that it will be possible for the ATL Sales Team to conduct product training workshops for ATL's International Agent/Distributor Network. Combined with well-appointed Goods-In/Out and Reception areas, the ATL customer experience will improve - whether a customer purchases products directly, or through the well-established ATL Agent network.
Internal construction work within the building is well under way, and the re-fit and relocation is expected to be complete by mid-October.
Success for ATL customers at Spa 24hrs
Following a raft of podium finishes at the Le Mans 24hrs, ATL customers achieved two further endurance podium finishes at the Total 24hrs of Spa race last weekend - HTM Motorsport winning the Pro Cup with its Mercedes SLS AMG GT3, and the RJN Motorsport Nissan GT Academy Team finishing third with its Nissan GT-R Nismo GT3.
With one round of the Blancpain Endurance Series to go, the Pro-Am standings are led by ATL customer Nissan GT Academy Team RJN, while Marc VDS Racing stands second in the Pro championship standings.
- ends -
IMAGES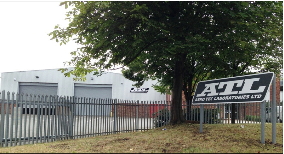 < ATL Ltd's New Home:
Denbigh Road, Milton Keynes
Located just four miles from its current site, ATL will still be located just 20 minutes from Silverstone.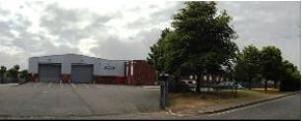 < Increased Production Capacity
ATL Ltd's new premises will be four times larger than its current premises.
NOTES FOR EDITORS
ABOUT ATL
Aero Tec Laboratories (ATL) Limited manufactures composite bladder devices and fluid transfer systems for racing cars, aircraft, space craft, defence vehicles, submersibles, marine craft and industry. ATL's fuel cells are crash-resistant, explosion-suppressant and extremely lightweight, thereby offering the customer performance gains alongside major safety improvements. ATL's flexible fluid containment bladder tanks are suitable for holding fuel, water, oil, chemicals, waste material, powder and gasses and can be supplied with highly sophisticated liquid transfer plumbing & equipment.
Aero Tec Laboratories (ATL) was founded in 1970, as a design and testing facility for "flexible composite" materials. Shortly thereafter, the firm broadened its scope to include the actual fabrication of end products from its own outstanding fibre/elastomer composites. This led to the development of ATL's remarkable bladder-type cells, which deform under high-energy impacts.
From ambitious beginnings in engineered inflatables and crashworthy fuel cell bladders, ATL has further spread its technologies into compensators, accumulators, potable water vessels, self-healing ballistic tanks, bulk storage bladders and scores of similar endeavours. The common thread among ATL's products is the remarkable toughness and durability coupled with extreme light-weight, high flexibility and compactness.
With ATL's ongoing development into high performance fabrics and complete fuel system products, ATL remains the World's leader in Fuel Cell Design and Technology, and is a supplier to every Formula One team.
Please explore our website for more information about ATL's many products - www.atlltd.com .
CONTACT INFORMATION
Press Enquiries
Adam Pointer,
Aero Tec Laboratories Ltd,
One Patriot Drive,
Rooksley, Milton Keynes
MK13 8PU, UK.
Email: apointer@atlltd.com
Tel: +44 (0)1908 351700
Fax: +44 (0)1908 351750
High-resolution images are available on request - please contact Adam Pointer (above).
[Press release distributed by CDWrite on behalf of Aero Tec Laboratories (ATL). To unsubscribe from all CDWrite email lists, please reply with "STOP" as the subject line]
12of13/e&oe/ends/