Now in its sixth year, Ginetta have once again partnered with headline sponsor ATL Racing Fuel Cells, which will see the overall winner receive 50percent off entry into the 2014 Ginetta Junior Championship. In addition, there is £1,000 of Ginetta parts credit on offer for the runner-up and two sets of 2014 specification Michelin tyres for third place.
Not only that, but there will be an additional "Hard Charger" prize of a set of 2014 specification Michelin tyres, awarded to the driver gaining the most places from their respective grid position over the course of the four races, courtesy of Protyre Motorsport.
The two-day event will feature one 15-minute qualifying session and two 15-minute races per day; the overall winner will be the driver who amasses the most points over the four races, using the same points system as the main Ginetta Junior Championship.
Max Gregory, Championships Manager for Ginetta, explained: "With four races scheduled over the weekend, we elected to alter the format of the ATL Racing Fuel Cells Ginetta Junior Winter Series slightly by adding an additional qualifying session. To have your starting position for all four races of the series determined by a single qualifying session is certainly a lot of pressure, especially for a driver who potentially may be driving a car for the first time in a competitive environment. By adding an additional qualifying session, the event will essentially run like two, back-to-back Ginetta Junior Championship meetings.
"Judging by the surge of interest we have had in the Ginetta Junior Championship during the latter part of this season, we are confident of a healthy Winter Series, which should stand us in good stead for next year."
The series has already cemented itself as a proving ground for Ginetta Junior drivers of the future, with the announcement coming just a few days after ATL Racing Fuel Cells Ginetta Junior Winter Series Champion 2012, Harry Woodhead, was crowned as provisional champion of the main Ginetta Junior Championship - following in the footsteps of Seb Morris in 2010 / 2011.
Giles Dawson, Managing Director of ATL Racing Fuel Cells, said: "Having supported the Winter Series in 2012 and seeing our champion Harry Woodhead go on to win the main Ginetta Junior series this year, further highlighted the clear ladder for young talent to develop which Ginetta provide.
"Seeing karters make the switch to Ginetta Juniors through the ATL-supported Winter Series and supporting the prize of a discounted entry into the full Championship has been so rewarding for us, and I hope we can see history repeat itself with the 2014 Ginetta Junior champion finding his or her feet later this Autumn."
Lawrence Tomlinson, Ginetta Chairman, added: "With Harry Woodhead having won the ATL Racing Fuel Cells Ginetta Junior Winter Series, followed by the main championship, there's no denying this is the place to start a motorsport career; whether it is for the first time or with the aim to make the natural progression from karting."
http://www.ginetta.com/news_article?id=1304
Previous Winter Series champions include Josh Hill (2008), current Clio Cup driver Aaron Williamson (2009), and 2011 Ginetta Junior champion and current BRDC Formula 4 driver Seb Morris (2010), as well as George Gamble (2011).
http://www.ginetta.com/news_article?id=970
http://www.btccblogs.co.uk/harry-woodhead-wins-atl-racing-fuel-cells-ginetta-junior-winter-series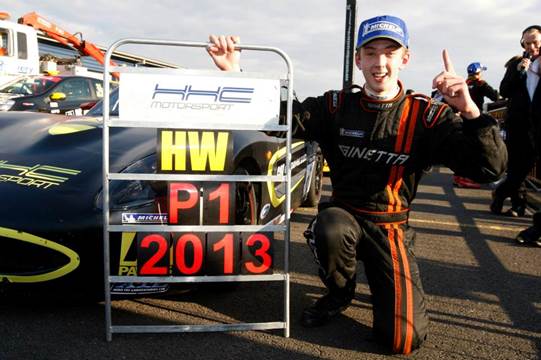 - ends -
NOTES FOR EDITORS
ABOUT ATL
Aero Tec Laboratories (ATL) Limited manufactures composite bladder devices and fluid transfer systems for racing cars, aircraft, space craft, defence vehicles, submersibles, marine craft and industry. ATL's fuel cells are crash-resistant, explosion-suppressant and extremely lightweight, thereby offering the customer performance gains alongside major safety improvements. ATL's flexible fluid containment bladder tanks are suitable for holding fuel, water, oil, chemicals, waste material, powder and gasses and can be supplied with highly sophisticated liquid transfer plumbing & equipment.
Aero Tec Laboratories (ATL) was founded in 1970, as a design and testing facility for "flexible composite" materials. Shortly thereafter, the firm broadened its scope to include the actual fabrication of end products from its own outstanding fibre/elastomer composites. This led to the development of ATL's remarkable bladder-type cells, which deform under high-energy impacts.
From ambitious beginnings in engineered inflatables and crashworthy fuel cell bladders, ATL has further spread its technologies into compensators, accumulators, potable water vessels, self-healing ballistic tanks, bulk storage bladders and scores of similar endeavours. The common thread among ATL's products is the remarkable toughness and durability coupled with extreme light-weight, high flexibility and compactness.
With ATL's ongoing development into high performance fabrics and complete fuel system products, ATL remains the World's leader in Fuel Cell Design and Technology, and is a supplier to every Formula One team.
Aero Tec Laboratories Ltd is a company registered in England and Wales with a company number of 3490552; its registered office is 1 Patriot Drive, Rooksley, Milton Keynes, Bucks, MK13 8PU.
Please explore our website for more information about ATL's many products - www.atlltd.com.
CONTACT INFORMATION
Press Enquiries
Kevin Molloy,
Aero Tec Laboratories Ltd,
One Patriot Drive,
Rooksley, Milton Keynes
MK13 8PU, UK.
Email: kmolloy@atlltd.com
Tel: +44 (0)1908 351700
Fax: +44 (0)1908 351750

@ATLFuelCells

High resolution images are available on request - please contact Adam Pointer (as above).
[Press release distributed by CDWrite on behalf of Aero Tec Laboratories (ATL). To unsubscribe from all CDWrite email lists, please reply with "STOP" as the subject line]
13of13/e&oe/ends/