ATL's hard work over the past few years in gaining several contracts within the Aerospace, Defence and Marine industry, has been a contributory factor in developing ATL's QMS and reaching the high quality standards of BSI.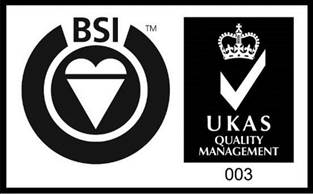 ATL Expands into New Premises
If you have been following us on Twitter @ATLFuelCells, you would have been involved in the countdown to when we move into our new premises. Daily Tweets have been posted, showing the rapid progress over the last week or so. We are now only five working days from moving into our purpose-built ATL Technology Centre. Please ensure that you update your current database records to our new address: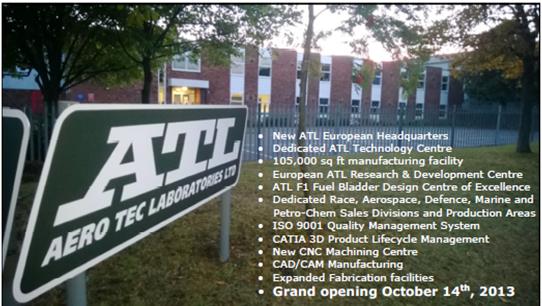 Aero Tec Laboratories Ltd
Denbigh Road
Bletchley
Milton Keynes
MK1 1DF
Our phone, fax and e-mail contact details will all remain the same.
Tel: +44 1908 351700 Fax: +44 1908 351750 Email: atl@atlltd.com www.atlltd.com
ATL Champions 2013
Congratulations to the following ATL customers in becoming 2013 champions:
Mike Rockenfeller - Phoenix Racing - 2013 DTM Champions
Sebastian Ogier and Julien Ingrassia - VW Motorsport - 2013 WRC Champions
Pierre Ragues and Nelson Panciatici - Signatech Alpine - 2013 ELMS Champions
Good luck to ATL customers Andrew Jordan, Matt Neal, Gordon Shedden, Colin Turkington and Jason Plato, who will be battling it out at Brands Hatch on 13 October to be crowned 2013 BTCC Champions.
Professional Motorsport Expo, Cologne, Germany (12-14 November 2013)
The ATL Technical Team will on exhibition duty next month at the Professional Motorsport Expo in Cologne. On display will be a number of new racing fuel system products for 2014, so please pop along to our booth. As exhibitors, we do have an allocation of guest tickets to this Trade Only show, so if you would like an entry ticket, please send an email to atl@atlltd.com and we will try to help. Please remember that tickets are on a first-come, first-served basis.
- ends -
NOTES FOR EDITORS
ABOUT ATL
Aero Tec Laboratories (ATL) Limited manufactures composite bladder devices and fluid transfer systems for racing cars, aircraft, space craft, defence vehicles, submersibles, marine craft and industry. ATL's fuel cells are crash-resistant, explosion-suppressant and extremely lightweight, thereby offering the customer performance gains alongside major safety improvements. ATL's flexible fluid containment bladder tanks are suitable for holding fuel, water, oil, chemicals, waste material, powder and gasses and can be supplied with highly sophisticated liquid transfer plumbing & equipment.
ATL was founded in 1970, as a design and testing facility for 'flexible composite' materials. Shortly thereafter, the firm broadened its scope to include the actual fabrication of end products from its own outstanding fibre/elastomer composites. This led to the development of ATL's remarkable bladder-type cells, which deform under high-energy impacts.
From ambitious beginnings in engineered inflatables and crashworthy fuel cell bladders, ATL has further spread its technologies into compensators, accumulators, potable water vessels, self-healing ballistic tanks, bulk storage bladders and scores of similar endeavours. The common thread among ATL's products is the remarkable toughness and durability coupled with extreme light-weight, high flexibility and compactness.
With ATL's ongoing development into high performance fabrics and complete fuel system products, ATL remains the World's leader in Fuel Cell Design and Technology, and is a supplier to every Formula One team.
Aero Tec Laboratories Ltd is a company registered in England and Wales with a company number of 3490552; its registered office is 1 Patriot Drive, Rooksley, Milton Keynes, Bucks, MK13 8PU.
Please explore our website for more information about ATL's many products - www.atlltd.com .
CONTACT INFORMATION
Press Enquiries
Kevin Molloy
Aero Tec Laboratories Ltd
ATL Technology Centre
Denbigh Road
Bletchley
Milton Keynes
MK13 8PU, UK.
Email: kmolloy@atlltd.com
Tel: +44 (0)1908 351700
Fax: +44 (0)1908 351750

@ATLFuelCells
[Press release distributed by CDWrite on behalf of Aero Tec Laboratories (ATL). To unsubscribe from all CDWrite email lists, please reply with "STOP" as the subject line]
/e&oe/ends/