The ATL Technical Sales Team of Darren Forder and Adam Pointer will be on exhibition duty next week at the Professional Motorsport World Expo in Cologne. On display will be a number of new racing fuel system products from ATL, so please pop along to the ATL booth to find out the exciting news. For a free entry ticket, please visit the PMW website (www.professionalmotorsport-expo.com/english/visitor_pass.php). The event runs from 12 to 14 November and we look forward to seeing as many of you as possible.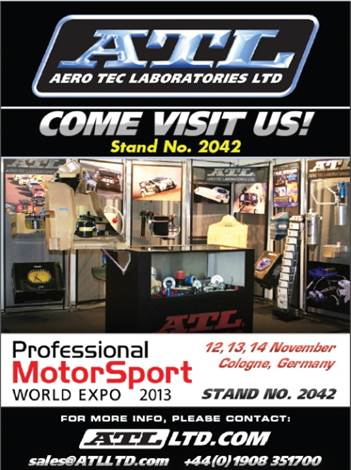 New ATL Products on display
New Saver Cell Cap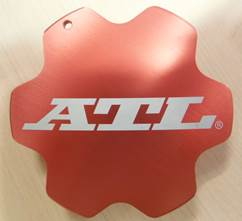 - Billet machined aluminium
- Lightweight
- ¼ turn for quick release
- Improved seal
- Designed for ease of use and comfortable grip
- Attractive red anodised finish with classy ATL logo for that sporty and racey look
- Available from stock
- Low Cost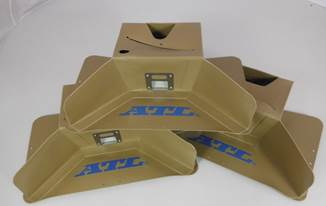 Revamped Internal Collectors
- 3 litre Capacity
- ATL one-way Trap Doors and Guiding Vanes, direct and trap fuel under acceleration and cornering force, yet retain fuel under braking forces
- Can be retro-fitted into any ATL Saver Cell (from 30 litres to 170 litres)
- Can be supplied with single or double 'quick release' pump mount straps for quick and easy pump installation and removal
- Low cost and available from stock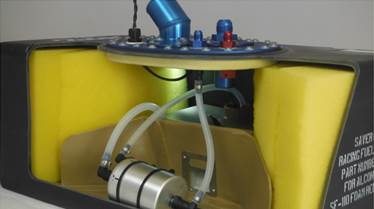 Upgrade your Saver Cell
ATL's FIA FT3-1999 Saver Cells can be easily upgraded, with a sophisticated internal collector, fuel pump and pressure regulators.
On display at PMW Expo 2013 will be five examples of fuel systems which can be plumbed within a budget-priced Saver Cell fuel bladder.
Ginetta ready for ATL Racing Fuel Cells Junior Winter Series

The ATL Racing Fuel Cells Winter Series arrives at Snetterton Circuit this weekend. A packed grid of teenagers race for the championship crown, in this action-packed, two-day event.
This series has already cemented itself as a proving ground for Ginetta Junior drivers of the future, with 2012 ATL Racing Fuel Cells Ginetta Junior Winter Series Champion Harry Woodhead winning the 2013 Ginetta Junior Championship, following in the footsteps of Seb Morris, who did the same in 2010 & 2011.
For more information, please log onto http://ginetta.com/news_article?id=1346
ATL have moved!
Right on schedule, ATL finally moved into our swanky new premises.
For those of you who have not done it, please ensure that you update your current database records to our new address:
Aero Tec Laboratories Ltd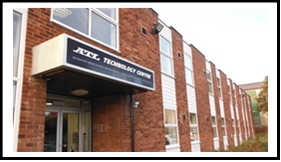 ATL Technology Centre
Denbigh Road
Bletchley
Milton Keynes
MK1 1DF
Our phone, fax and e-mail contact details all remain the same.
Tel: +44 1908 351700
Fax: +44 1908 351750
Email: atl@atlltd.com
Website: www.atlltd.com
Previous ATL building 'For Sale' (or potential lease, with option to purchase)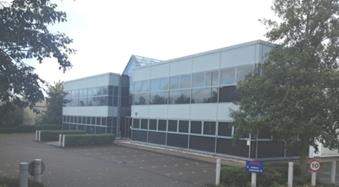 - 23,653 sq ft Detached headquarters warehouse/production premises situated on a self-contained site.
- Two-story office/ancillary accommodation with a full-height glazed featue reception area.
- Heating (air-conditioning within offices) and lighting throughout.
- Hard standing car park (circa 54 spaces) and loading area with two recessed ground-level access doors, which benefit from a full-height canopy.
- Perfect location close to M1 J13/14.
Please contact Giles Dawson (gdawson@atlltd.com) for more details
ATL Champions 2013
With the motorsport season coming to a close, "Congr-ATL-ulations" to the following ATL customers on becoming 2013 Champions:
Sebastian Vettel (Red Bull Racing) - 2013 F1 Driver World Champion
Andrew Jordan (Pirtek Motorsport - 2013 BTCC Champions
Yvan Muller (Ray Mallock Ltd/Chevrolet) - 2013 WTCC Champions
Petr Fulin (Krenel Motorsport/BMW) - 2013 ETCC Champions
Mike Rockenfeller (Phoenix Racing) - 2013 DTM Champions
Sebastian Ogier/Julien Ingrassia (VW Motorsport) - 2013 WRC Champions
Pierre Ragues / Nelson Panciatici (Signatech Alpine) - 2013 ELMS Champions
Andrew Howard (Beechdean-AMR driver) - 2013 British GT Champions
Ryan Ratcliffe/Rick Parfitt Jnr (Optimum Motorsport) - 2013 British GT4 Champions
- ends -
NOTES FOR EDITORS
ABOUT ATL
Aero Tec Laboratories (ATL) Limited manufactures composite bladder devices and fluid transfer systems for racing cars, aircraft, space craft, defence vehicles, submersibles, marine craft and industry. ATL's fuel cells are crash-resistant, explosion-suppressant and extremely lightweight, thereby offering the customer performance gains alongside major safety improvements. ATL's flexible fluid containment bladder tanks are suitable for holding fuel, water, oil, chemicals, waste material, powder and gasses and can be supplied with highly sophisticated liquid transfer plumbing & equipment.
ATL was founded in 1970, as a design and testing facility for 'flexible composite' materials. Shortly thereafter, the firm broadened its scope to include the actual fabrication of end products from its own outstanding fibre/elastomer composites. This led to the development of ATL's remarkable bladder-type cells, which deform under high-energy impacts.
From ambitious beginnings in engineered inflatables and crashworthy fuel cell bladders, ATL has further spread its technologies into compensators, accumulators, potable water vessels, self-healing ballistic tanks, bulk storage bladders and scores of similar endeavours. The common thread among ATL's products is the remarkable toughness and durability coupled with extreme light-weight, high flexibility and compactness.
With ATL's ongoing development into high performance fabrics and complete fuel system products, ATL remains the World's leader in Fuel Cell Design and Technology, and is a supplier to every Formula One team.
Aero Tec Laboratories Ltd is a company registered in England and Wales with a company number of 3490552; its registered office is 1 Patriot Drive, Rooksley, Milton Keynes, Bucks, MK13 8PU.
Please explore our website for more information about ATL's many products - www.atlltd.com.
CONTACT INFORMATION
Press Enquiries
Kevin Molloy
Aero Tec Laboratories Ltd
ATL Technology Centre
Denbigh Road
Bletchley
Milton Keynes
MK13 8PU, UK.
Email: kmolloy@atlltd.com
Tel: +44 (0)1908 351700
Fax: +44 (0)1908 351750
Twitter: @ATLFuelCells