FOR IMMEDIATE RELEASE:

Gateway Motorsports Park to Host Second Street Car Super Nationals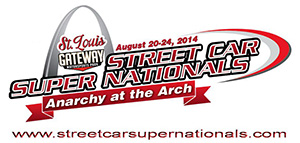 Contact:


Brandon W. Mudd
PR@HighSideMedia.com
636-219-9676
LAS VEGAS –
Officials from the Pacific Street Car Association and Gateway Motorsports Park in Madison, Ill., announced a multi-year partnership agreement to expand the popular drag racing Street Car Super Nationals to two events next season. The multi-purpose facility will host the St. Louis Street Car Super Nationals August 20-24, 2014.
"We're excited to work with Mel Roth on the development of this event and believe it will quickly become one of the premier drag racing events in the United States," said Chris Blair, Gateway Motorsports Park Senior vice president of business development and promotion. "Having been involved with the development of the Street Car Super Nationals from the beginning, I've watched the program grow tremendously from it's beginning and know that our venue will be the perfect home for the next step for this event."
The Street Car Super Nationals was developed by PSCA President Mel Roth and has shown tremendous growth at The Strip at Las Vegas Motor Speedway. This year's event is Nov. 13-17 with record car counts and crowds anticipated.
"From the very beginning I've had plans to continue building this program and expand to additional events,' said Roth. "Having worked with Chris on the Street Car Super Nationals from the start, he knew I was looking for a first class facility with the right geographic location and there's nowhere better than Gateway Motorsports Park to host the event."
St. Louis businessman Curtis Francois purchased the facility last year and has invested more than $11 million in renovations, expansion and improvements. The track has hosted two NHRA AAA Insurance Midwest Nationals events to rave reviews by fans, sponsors and racers.
"Mel is one of the hardest working people in drag racing and his commitment to the Street Car Super Nationals, as well as our past event partnerships, made this the perfect opportunity for all involved," continued Blair. "We've secured the services of David Cook from Pro-Trac to insure the racing surface is perfect and we're putting together an all-star team to handle everything from pit parking to the victory lane ceremonies."
Additional event details are being finalized and the final schedule and purse information will be released at the Performance Racing Industry show in Indianapolis next month.
Fans of the Pacific Street Car Association can find updates and photos of PSCA racers and events by checking out PSCARacing.com, Twitter.com/PSCARacing, and Facebook.com/PSCARacing. Videos of PSCA drag racing action can be found at YouTube.com/PSCARacing.
Racers and fans can also visit the PSCA's official page on Facebook to find photos, stories, and videos of the best drag racing in the country.

Get PSCA Stuff: Represent the Pacific Street Car Association and West Coast drag racing by visiting our online store! The official PSCA store has everything for fans and racers of all ages, including hats, shirts, DVDs, and more at huge discounts. Click HERE to start shopping!
-PSCA-
About the Pacific Street Car Association:
In its 14
th
season, the Pacific Street Car Association, based in Las Vegas, has been a staple of West Coast drag racing since its inception. With six heads-up classes, four bracket classes, and two index classes, the PSCA provides some of the best racing in the country for both fans and racers. The PSCA season is capped off by its Street Car Super Nationals at The Strip at Las Vegas Motor Speedway, now in its ninth year.
About HighSide Media
Founded in 2007, HighSide Media has represented some of the top drivers, teams, facilities, sponsors, and sanctions in American motorsports. HighSide Media provides public and media relations for racers at every level with tailor-made programs for every budget. Pass YOUR Competition on the HighSide.