BLOND 67 - polite driver, but ...
BLOND 67 - polite driver, but ...
Gus Philpott
Woodstock Advocate
July 26, 2012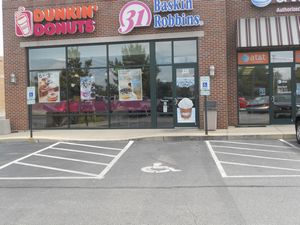 After the Jeep left
At Dunkin' Donuts this morning I paused to speak with the driver of a blue Jeep Wrangler in the handicapped parking place in front of the store in Woodstock. I had noticed that it did not have a handicapped person license plate or a placard displayed from the inside mirror or on the dashboard.
The driver was polite enough. I approached the driver's side window and asked, "Are you aware of the handicapped parking laws?"
Before she could answer, an older woman in the passenger seat asked in a demanding manner, "Are you with the city?" No.
"Are you a police officer?" No.
Then she said, in effect, "Well, then, butt out."
About that time a Dunkin' Donuts employee came out with a to-go bag, and the driver backed out, saying, "We're going now."
Would it have been fair to sic the Woodstock cops on this driver and cost her a $600 ticket, because of her passenger's (her mother?) attitude?
I didn't approach the car with an "attitude". Maybe I saved her a $600 ticket in the future. But her passenger's surly attitude will certainly get her a ticket, if she ever is stopped by a cop for parking or stopping in a handicap spot.
Connect with The Crittenden Automotive Library