US Trucking Industry Tightens Security Following 9-11
US Trucking Industry Tightens Security Following 9-11
Michael Leland
Chicago
May 18, 2002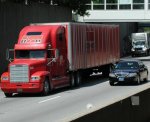 Trucks on a Chicago highway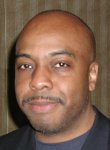 Kevin Johnson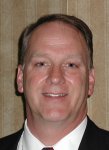 Dan Poole

Listen to US Trucking Industry Tightens Security Following 9-11
- RealPlayer - 412KB - 3:20
The September 11 terrorist attacks on New York and Washington last year have prompted security reviews in just about every segment of life in the United States, from government buildings to baseball stadiums. The trucking industry in the United States is also tightening security, both to protect its own drivers and cargoes and to protect the American public.
U.S. government security experts have said terrorists plotting another strike against Americans could use a truck carrying gasoline or another hazardous material as a rolling bomb. Commercial truck driver Jim Curtis of ABF Freight System in New Mexico says that concern has the trucking industry more serious than ever about security. "Everything now is looked at. Everything now is looked at more so than it ever was before," he says. "But I think we have to remember the industry we are in, we are always worried about security and safety. This just heightened it some."
Mr. Curtis was among 200 drivers and other trucking industry officials at a recent two-day security conference in Chicago. The head of security at Consolidated Freightways in Washington state, Kevin Johnson, says one change since September 11 has been the feeling that a driver's license is not enough identification for a commercial driver. "Many of our customers, carriers, shippers want an additional piece of ID that shows that that driver belongs with that truck," he says.
Mr. Johnson says his company has issued all of its drivers ID cards to carry along with their licenses.
Truckers are about to form what they call "America's Trucking Army." The industry wants to train three million drivers to spot suspicious activities along the nation's roadways that could indicate a potential terrorist attack. Mr. Johnson says drivers will keep an eye on bridges, highways, tunnels and seaports. "Drivers have a great field of view because of their height in a cab. They know the roads, they know what looks peculiar, they are in constant communication with each other on their radios," he says.
Federal Express truck driver Jenny Zinkel says drivers have always kept an eye on their surroundings, but have not always been quick to report things that seemed unusual unless they were potentially hazardous. "I think that is something that some of us have been less willing to do. Maybe you do not want to snitch on someone you are traveling around, but if you see something suspicious now, more drivers are likely to call that in immediately," he says.
Boeing Corporation truck driver Dan Poole says truckers will also keep an eye on roadside rest stops and refueling stations. He says those are the types of places where a potential truck hijacker is more likely to strike. "If I am pulling up to a fuel pump, don't just look at the fuel island," he says. "Look at the surroundings. Look for vehicles that seem out of place, abnormalities as to the vehicles. If someone is sitting in a vehicle and there is a pile of cigarette butts outside the door, that usually indicates they have been sitting there for a while and are looking for something."
Truckers will be given a toll-free telephone number to call to report anything suspicious. States are also trying to make it tougher for people to illegally obtain commercial drivers licenses. The government says that has happened in as many as 16 states since 1998.
Connect with The Crittenden Automotive Library