Dream Cars: Chevrolet Chevelle 4.09L

Opinions expressed by Bill Crittenden are not official policies or positions of The Crittenden Automotive Library. You can read more about the Library's goals, mission, policies, and operations on the About Us page.
Dream Cars: Chevrolet Chevelle 4.09L
Bill Crittenden
April 7, 2013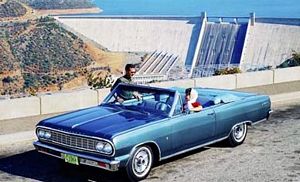 1964 Chevrolet Chevelle Malibu SS Convertible
This "Dream Car" combines two recently shelved General Motors technologies from Pontiac and Oldsmobile into a really fun retro Chevrolet. In this case, I'm thinking of the Chevrolet Chevelle. Now, this will probably annoy the hell out of people who only think of the Chevelle as the bad-ass 1970 SS 454, but it wasn't always that way. The 1964 had great style for its day, or any day for that matter, and was a nice midsize family car, nothing more.
In this instance, remembering the advertising of yesteryear showing families and couples enjoying days out seeing the sights in their Chevelle converitbles, and remembering the intertwined histories of the Chevelle and Malibu, I would make a new Chevelle as a Malibu-based coupe with front styling evocative of the 1964's grill that wrapped around the round dual headlights.
I would love to revive two bits of GM technology for this endeavor. One is the retractable hardtop from the Pontiac G6, also similar to the Malibu in its day. Hardtop, soft top, either way, Chevrolet could use a moderately priced FWD convertible. In base model form, with the same standard engines and equipment as a base Malibu, it should be a more than decent seller.
For the performance end of the Chevelle line, all wheel drive would make a great substitute for rear wheel drive since it gets power down for a launch better than anything and wouldn't incur the cost of completely redesigning the car for rear wheel drive.
The other GM technology I'd revive for this project would be the former Oldsmobile Aurora V8, officially the L47 engine. It was 4.0L, and hasn't been used since Oldsmobiles were made back in 2004. Overboring or stroking the engine just a tiny bit to get, say, 4.09L of displacement out of it breathes new life into the former Aurora V8 as a new modern Chevy 409. Yeah, the 409 that the Beach Boys sang about in the sixties. It was an advanced engine for its day, including being robust enough for use in racing, so it ought to stand up to getting squeezed into a Malibu-sized car and driven around on the street.
The original L47 needed an ignition interlock because it was so quiet that drivers might try and start an already running engine. Just for fun, that would have to be fixed (the quietness, not the ignition interlock). That power, delivered to the pavement through all 4 tires would make a decently quick straight-line car for the price. Oh, and there's a perfect ready-made jingle for the commercials, too.
Connect with The Crittenden Automotive Library