Moscow: Turning Europe's Largest City into Eurasia's World Class City
Moscow: Turning Europe's Largest City into Eurasia's World Class City
James Brooke
Voice of America
July 3, 2012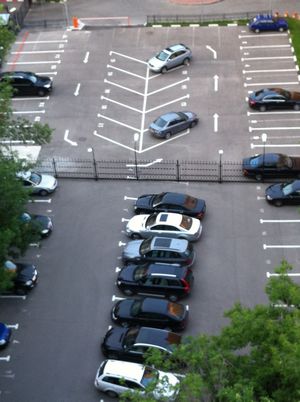 25 empty parking spaces behind a new fence at Kutuzovsky Prospect 11 — could be a rational solution for the 25 cars parked on the sidewalk out front. VOA Photo: James Brooke
Moscow is easily at its best in the summer – lots of green, less traffic, stylish clothes, plenty of energy, and constant cultural stimulation
Last week, I attended a Moscow News round table on how to make Moscow a global city.
Judging by my Sunday, Moscow is already there.
The afternoon started with Canada Day reception in the embassy garden; then over to Red October for a Russian photo show at Lumiere Brothers, followed by sushi and expresso with the bilingual curator; then around the corner to a photo show of Sergey Bratkov, a cutting edge Ukrainian photographer; then to the Arbat to pick my way through Russian and Italian tourists in search of a rumored protest; then to the Dome Theater for a French movie, Intouchables, with Russian subtitles up top and English subtitles down below; and finally two hours in front of a big screen, watching the Spain-Italy final of the Euro 2012 football cup, broadcast live from Kyiv. All stops connected by a Russian friend's German-made BMW. During down time, skype calls to US and Brazil.
Sounds pretty international to me.
But, after living in Moscow for six years, I offer five quick tips on how to make it Moscow world class.
non-automotive related segments removed...
PARKING – Parking on sidewalks inside the Third Ring is Third World.
Sorry, but people in London, Paris, New York and Berlin do not park their cars on sidewalks.
Inside the Third Ring is Moscow's historic center. It should be a pleasant place to walk.
Cities change. People change.
Last year, I was back in Rio de Janeiro after a 15-year absence. A friend was driving me to lunch, searching in vain for a Sunday afternoon parking space near Copacabana Beach. The Moscow gremlin inside me piped up and said: "Park on the sidewalk, park on the sidewalk."
My Brazilian friend sighed: "We stopped doing that 10 years ago. Big fines."
In Moscow, it will take time for underground parking to be built.
Meanwhile, an inventory of free spaces can be made. We all know where they are. To encourage their use, make surface parking a tax free business. Penalize people like my Kutuzovsky Prospect neighbors who flaunt their 20 empty spaces as some sort of weird status symbol, while pedestrians thread their way among cars covering the sidewalk.
Connect with The Crittenden Automotive Library