Here, There, Everywhere: Meals on Wheels
Here, There, Everywhere: Meals on Wheels
Ted Landphair
Voice of America
September 10, 2010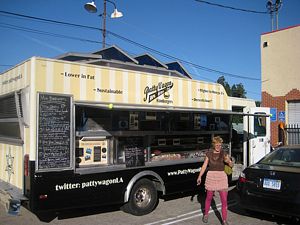 The cruising "Pattywagon" in Los Angeles serves "100% grainfed beef" from cows who once placidly grazed in Wyoming's Teton Valley. (ubrayj02, Flickr Creative Commons)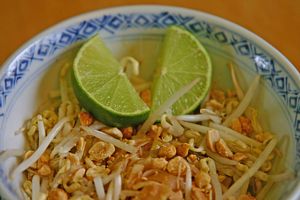 You don't have to go to a sit-down restaurant to find what used to be considered unusual dishes, such as this Pad Thai Salad with lime, any more. You'll probably get it on a paper plate from the food wagon, though. (Dan Zen, Flickr Creative Commons)
The hottest segment of the food-service business isn't some trendy restaurant fad but old-fashioned food carts.
Well, imaginative, upscale, and exotic versions of them.
My colleague June Soh recently produced a television story about one of the most successful— a roving cupcake operation here in Washington. The lawyer who quit his job to start "Curbside Cupcakes" has caught the wave of what must have been a pent-up craving for these fist-sized baked goodies topped with mounds of sugary goo. He sells 1,000 cupcakes a day at five stops throughout the city. Four stops, really, since the inventory is usually gone by the time he's passed cupcakes out the window to the hordes at Stop #4. Alerted by tweets that the truck is en route, people who should be working literally line up around the block to get their hands on these sticky confections.
In Portland, Oregon, strolling gourmands can choose among Korean barbecue; G-bird, green-cheese, and pork confit sandwiches; Kao Khlook Kapi; all sorts of crepes; fish gordidas and every imaginable kind of taco.
What's a G-bird sandwich? Chicken thigh meat topped with Gorgonzola and Monterey jack cheese. A fish gordida? A thick, deep-fried taco heaped with fresh-caught fish, sour cream, lettuce, and marinated red onions. Kao Khlook Kapi? Korean rice, sweet pork, fried egg, sliced green apple, shallots, chilis and lime — with some soup served on the side.
Pork confit? You got me on that one. "Confit" is one of those mysterious, snooty-sounding words that pops up on chi-chi menus. I've always translated it as "small portions," possibly having something to do with sherbet.
There are countless other new and yummy food-cart offerings: In New Haven, Connecticut, the New York Times found bibimbap, boolgobi, injera, teppanyaki and miso soup. I haven't the slightest idea what ANY of those is, but I doubt they come with mustard, chili, and onions.
Why are so many specialized "mobile commissaries," as the Los Angeles Times calls them, springing up and succeeding, sometimes wildly?
Almost always a risky, low-profit-margin operation, brick-and-mortar restaurants are struggling during the nation's long-running economic doldrums. According to the NPD Group, which tracks the food-and-beverage business, the number of U.S. restaurants has declined this year for the first time in ten years. Eating out at a sit-down restaurant is a discretionary decision — one of the first to go when family budgets are tight.
Investing in, and customizing, a fancy food truck is a whole lot less expensive and risky than leasing a big space, decorating and furnishing it, hiring and supervising employees, and preparing a complex array of menu items. On your food truck, you can bring one or a few simple products, fix 'em up, and serve them fast to your customers.
And, as the cupcake dude found out, they will find you as well. It's no problem if the chef is a pompous jerk. You're the chef. And the driver, server, and dish washer.
The quality of the new foods is often surprisingly high. And with sidewalk customers and food inspectors keeping a close eye on these rolling kitchens, standards of hygiene and cleanliness are pretty stiff, too. As the Los Angeles Times put it in a headline over a story about what seems like a whole new fleet of roaming catering trucks on the streets of L.A. — everything from the Fish Lips Sushi van to the Dosa East Indian crepe cart to the Coolhaus crew that serves up organic ice-cream sandwiches, "This Ain't No Roach Coach."
Connect with The Crittenden Automotive Library