Distracted driving enforcement pilot begins in Delaware
Distracted driving enforcement pilot begins in Delaware
Fast Lane
U.S. Department of Transportation
November 7, 2012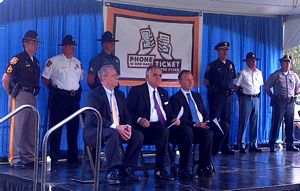 With Delaware Governor Markell in June, announcing the enforcement grant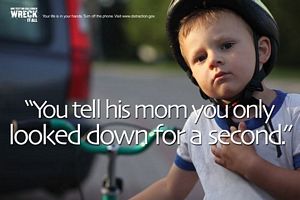 In June, we announced $2.4 million in federal support for California and Delaware to help strengthen distracted driving enforcement efforts in those states. Pilot programs in both states will examine whether increased police enforcement coupled with advertising and news coverage can significantly reduce texting and cell phone use behind the wheel.
Today, the first of those Phone in One Hand; Ticket in the Other pilot enforcement programs hits the streets in Delaware.
The Delaware Office of Highway Safety has teamed up with 42 law enforcement agencies across the First State to reduce handheld cell phone use and texting by motorists traveling on Delaware roadways. From today through November 20, law enforcement officers will be out in force to make sure drivers keep their eyes on the road and their hands on the wheel.
And because too many drivers still don't get the message that using a cell phone while driving can be dangerous and deadly, this initial distracted driving crackdown in Delaware is only the first of several enforcement waves taking place over the next year.
As Delaware Secretary of Safety and Homeland Security Lewis Schiliro, said, "Last year, 147 crashes were due to distracted driving. Our new dedicated enforcement campaign will offer a tough lesson to any driver caught paying attention to their phones instead of the road."
Colonel Robert Coupe of the Delaware State Police agrees: "More often than we would like, we bring the tragic news to families about the serious injury or death of a loved one that may have been prevented had someone not been driving distracted."
That's why so many different law enforcement agencies are working together to save lives on Delaware roadway this November.
As National Highway Traffic Safety Administrator David Strickland said, "We know from the success of Click It or Ticket and other safety programs that combining good laws with effective enforcement and a strong public education campaign changes unsafe driving behavior. Now, along with a great state partner, we're using this proven formula to help tackle distracted driving."
From 2010 to 2011, we supported similar pilot enforcement and media efforts in the cities of Hartford and Syracuse. Those two programs demonstrated dramatic declines in distracted driving in the two communities tested, with texting dropping 72 percent in Hartford and 32 percent in Syracuse.
Many thanks to Delaware Governor Markell, the Office of Highway Safety, and the Delaware law enforcement community for their commitment to safety.
Connect with The Crittenden Automotive Library