Monterey BRT offers fast, innovative transit service



Monterey BRT offers fast, innovative transit service
Fast Lane
U.S. Department of Transportation
November 13, 2012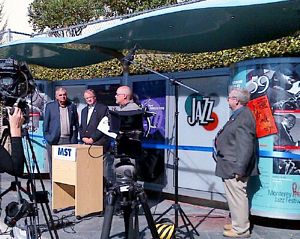 At a new JAZZ BRT bus shelter.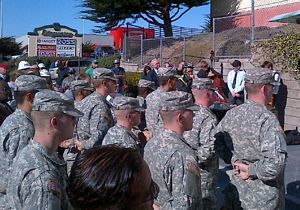 Military personnel at the JAZZ BRT opening.
Yesterday, I was pleased to attend the grand opening of the Monterey-Salinas Transit JAZZ Bus Rapid Transit (BRT) line in California. The new BRT service, funded in part by the Federal Transit Administration (FTA), will cut commuting times in half for riders on existing bus services and improve transit connections for thousands of others.
Many of these folks already depend on the bus to get to work every day--and BRT will get them there and back faster, and more reliably, than ever.
The JAZZ BRT system serves a 6.75-mile route between Sand City Station and the aquarium and travels through Seaside, where many transit-dependent hospitality workers reside. The $5 million project, which was funded in part by a $2.7 million grant from FTA's Small Starts capital program, will also connect riders with local employment centers and area attractions--opening up new opportunities for the people of Monterey.
And it was fitting to open the new line on a day when we thank our veterans for their service because Monterey County is home to nearly 16,000 active-duty and civilian military personnel, including those stationed at Monterey's U.S. Coast Guard station. In fact, military ridership on Monterey-Salinas Transit's non-BRT bus service grew by more than 300 percent between 2010 and 2012.
The new BRT will add stops near area military facilities to make travel a little easier for those who serve us so well. The least we can do at DOT is make sure these brave men and women have a convenient option for getting to work, to school, or wherever else they need to go.
The JAZZ line is doing all of this while also celebrating the city's musical heritage, with technology that allows riders to listen to selections featured at the annual jazz festival while they ride – a bonus for local riders and a reminder for tourists of yet another reason to visit the area.
From day one, the Obama Administration has been committed to bringing convenient and affordable transportation options--like the JAZZ line--to cities and towns across the nation. These investments make our communities stronger. They attract business and tourist dollars, helping to grow the region's economy. And they connect our workers with the jobs they need.
And together, those benefits are music to my ears.
Connect with The Crittenden Automotive Library