As Sandy weakens, DOT helping states stand strong
As Sandy weakens, DOT helping states stand strong
Fast Lane
U.S. Department of Transportation
October 31, 2012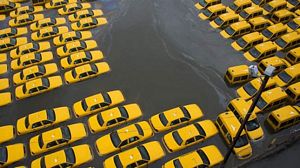 Cabs submerged photo courtesy All My Travels on Flickr
Even before Hurricane Sandy began to spin itself out yesterday in the Northeast and Canada, the states that felt the storm's impact wasted no time launching their recovery efforts. DOT wasted no time either, making immediately available
$13 million in quick-release emergency funds
to New York and Rhode Island. Restoring roadways is essential for first responders and relief workers trying to access affected communities and for quickly restoring critical services to impacted residents.
This is the first installment of
Federal Highway Administration funds
to help begin repairing roads, bridges and tunnels in these two states. The amount represents 100 percent of what the first two states to reach out to DOT requested, $10 million for New York and $3 million for Rhode Island. These emergency relief funds are just a down payment on our commitment to all of the states affected by Sandy, and we expect other states to apply for additional emergency relief funding in the coming days.
President Obama has directed us to immediately help
restore vital transportation infrastructure following this unprecedented and devastating storm – and that's exactly what we're doing.
Our announcement yesterday followed the President's call for federal agencies to act quickly and bring all available resources to bear as quickly as possible. It also builds on the emergency assistance for these states approved by President Obama in the last several days, including the major disaster declaration approved for New York and New Jersey.
The President's top priority is to make sure that all available resources are being provided to state and local responders as quickly as possible. And all of us here at DOT share that priority. We stand ready to assist governors, state DOTs, mayors, and transit agencies as they recover from this disaster.
That's why in addition to FHWA emergency relief funds, we're also supporting the states with technical assistance and emergency action. We took the first step yesterday when I talked with officials from 14 states to outline how they can apply for quick-release emergency and described other steps DOT is taking to assist them.
For example, the Federal Transit Administration stands ready to send experts to Joint Field Offices established by FEMA. They will provide guidance in damage assessment and recovery, and they will help direct transit agencies to available federal assistance programs. The FTA will also help coordinate staff and equipment donations from transit agencies that haven't been impacted by the storm to those that have been most severely affected.
To help interstate truck drivers providing direct emergency relief from the storm, our Federal Motor Carrier Safety Administration has issued an Eastern Regional Emergency Declaration that temporarily lifts certain requirements and regulations. The safety regulations waived under this declaration include, among others, hours of service requirements, certain inspection and maintenance requirements, and record keeping requirements. Also, utility vehicles are exempt from hours of service requirements.
The Federal Aviation Administration's top priority is to quickly re-establish air traffic service to support disaster relief efforts. The FAA Air Traffic System Command Center is maintaining constant communication with airlines, the military, business aviation, and airports affected by the storm, all of whom will advise the FAA about flight schedules and plans to resume operations into affected areas. The FAA is also assessing damage to quickly repair or re-establish air traffic facilities or critical navigational aids affected by Sandy.
All of these actions are just the beginning of our efforts to help those affected by Sandy. This storm has been heartbreaking for many, and --in addition to sending our hopes, prayers, and sympathy to those enduring the storm's devastation-- we're taking every step we can to make sure our assistance gets where it's needed as quickly as possible.
Already, states in the Northeast are picking themselves up and restoring essential infrastructure and services. DOT and the rest of the Administration stand ready to help them every step of the way.
Connect with The Crittenden Automotive Library