BYD Unveils "SUV-of-the-Year" and Launches New Auto Line-up at Chile Auto Show
BYD Unveils "SUV-of-the-Year" and Launches New Auto Line-up at Chile Auto Show
BYD
October 19, 2012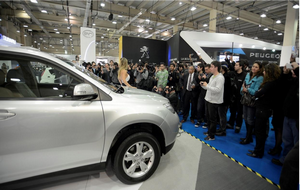 S6 launched at Chile auto show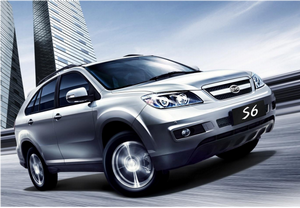 BYD S6
SANTIAGO CHILE October 19th, 2012: – China's "SUV-of-the-Year", the BYD S6 SUV made its debut this week at the Chile Auto Show in Santiago. Its Chilean launch promises to surprise all in the SUV segment just like it did in China – the S6 has a five-star-crash-test rating in China and continues to be one of the fastest selling models. BYD has become one of the leaders in new automotive technologies, launching several models this year in China that have generated immense excitement and outstanding results. One such model is BYD S6 SUV, which was launched one year ago in China and now debuts in Chile in the medium SUV segment. With a very fashion-sensitive design, excellent performance and advanced technologies not offered by other vehicles in its class, the BYD S6 earned the honored title of "SUV of the Year" in China in 2011 and then earned the "FastestSeller SUV" in 2012 after reaching 100,000 units sold less than one year.
"The arrival of this new model helps us achieve one of our key goals; to build the brand upon BYD's founding elements: innovation, technology and outstanding price / value", said Rodrigo Sanchez, the General Manager of BYD Chile. "We are confident that our SUV will resonate with the Chilean people and win a large share of this segment", said Stella Li, the Senior Vice President of BYD. The Chile S6 comes with a 138 HP 2.0-liter engine with 5-speed manual gearbox. It's characterized as having the longest vehicle length in the segment – over 4,810-millimeters in length, not only offering more interior passenger space but also spacious luggage accommodations. The S6 is an SUV for your family – with superior safety technology delivering best-in-class passenger protection, it received top marks in C-NCAP crash tests. The S6 also includes passive and active safety systems including side and rear parking cameras controlled from the steering wheel, surrounding parking radar, 6 airbags, all-wheel disc brakes, ABS + EBD, remote keyless entry and anti-theft immobilizer. The S6 also includes luxury comforts like; on-board entertainment systems with touch screens, DVD, Smart Key systems, leather seats, Bluetooth, radio with AUX and USB MP3 inputs, 9 speakers, dual climate controls, electronic folding mirrors with remote controls, signal, courtesy, and ground lighting. The S6 will start its sales in Chile from December, 2012.
Besides S6 SUV debut, BYD will open its doors at Chile's Santiago Auto Show in the following week to thousands of fans sharing the brand's vision of innovation, technology and safety. BYD has on display a line-up of several new models including the; BYD F0 City-Car, BYD G3 Sedan, BYD S6 SUV,
BYD e6 Cross-over EV. This show launches a new image for BYD Chile. In addition to S6 SUV, another innovation recently introduced is the Smart Key F0 model that will continue confirming the success of this city car thanks to the new one-button ignition and other improvements making it even more comfortable. The G3 sedan is another model on display at the show. It was launched last year and has already won accolades in its segment. With an excellent equipment list and a spacious interior, the G3 was the first of the BYD family equipped with BYD Smart Key, an element that distinguishes this class today. BYD not only presents conventional gasoline models in the Hall, but also it's benchmark electric models – the e6 is part of this line-up. 300 e6 models have more than two-years experience with an accumulated 20M fleet miles running in a public service in Shenzhen, China. The e6 has a range of 300km on a single electric charge and will be introduced in Chile next year as part of the first pilot EV programs in Chile's public transport system.
Connect with The Crittenden Automotive Library