ISCARS DASH Touring Season In the Books
ISCARS DASH Touring Season In the Books
Bradley Carpenter/ISCARS
October 5, 2011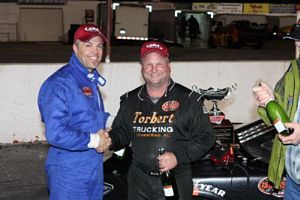 Brian Wallis and Danny Bagwell (Photo courtesy of Dale Roberts)
DAYTONA BEACH, FL - Int' Sport Compact Auto Racing Series (ISCARS) DASH Touring, Sanctioned by the American Speed Association (ASA) concluded the 2011 season last Saturday night at the famed Hickory Motor Speedway in Newton, NC. Danny Bagwell (Cordova, AL) capped off his stellar season by claiming both ISCARS feature events which were presented by Xtreme Trophies and Voodooride.com. In doing so, Bagwell earned his fourth ISCARS DASH Touring Championship in five years. .
Brian Wallis (Dallas, TX) was also crowned the 2011 ISCARS Rookie of the Year on Championship night. Wallis was entered in all twelve races this season and collected seven top fives and finished fourth in the Championship Points. "I learned something new every time I came to the track," said Wallis. This year the Rookie of the Year winner took home a thousand dollar bonus which was posted at the beginning of the season by Butch Applegate. Butch and Becky Applegate have been following ISCARS since it started in 2005 and have traversed the region attending most of the ISCARS events. Applegate offered the challenge to stir interest in promoting new drivers to the series.
As Wallis was receiving the honors, two younger DASH Generation drivers tossed their hats in the mix for 2012 by getting some seat time. Josh Crenshaw, son of George Crenshaw, who has several DASH victories, and Bradley Weaver son of Scott Weaver made their ISCARS debut at Hickory Motor Speedway. Josh practiced during the shakedown session and then turned the seat over to Brandon Burris for the race. Weaver finished both races in the top ten.
Eric Gerchak won his third pole of the season (Newport and Old Dominion). Gerchak turned a lap of 15.997secs, the only one in the 15 second bracket. The line-up for race one was: Gerchak, Todd Hawkes, Jason Shultz, Matt Johnson, Bagwell, Randy Humphrey, Joey Jones, Nick Martin, Wallis, Weaver, Charlie Walker, Charlie Barham, Chris Townsend and Brandon Burris.
Race one was set as a 50 lap shootout so the drivers had to drive hard but remember that they also had a 100 lap race later in the night, making tire management critical. A battle of champions occurred from laps 12 to lap 16 as Bagwell and Shultz (2009 Series Champion) raced side by side. At lap 19 the top four of Gerchak, Hawkes, Bagwell, and Shultz were all nose to tail. Bagwell finally pulled clear of the pack on lap 21 to settle into the lead. Townsend looped his car in turn four to bring out the first caution. He was able to continue without incident.
The restart came with less than 20 laps to go. Bagwell held the lead as Shultz and Gerchak fought for second with Joey Jones in close pursuit. A late race caution came on lap 37 for debris in turn two. The restart on lap 40 once again placed the field double file. With ten laps to go Bagwell shot to the lead and held on for his 48th career victory. Rounding out the top five were Todd Hawkes, Jason Shultz, Matt Johnson and Nick Martin.
Race winner Bagwell drew a five setting up the inversion for race two. Nick Martin would start on the pole followed by Andrew Durham (Replacing Johnson), Jason Shultz, Todd Hawkes, Danny Bagwell, Bradley Weaver, Randy Humphrey, Brian Wallis, Brandon Burris, Chris Townsend, Eric Gerchak, Joey Jones, Tommy Floyd, and Charlie Barham.
Ron Crane, from Xtreme Trophies, waved the field to green setting off 100 laps of Xtreme racing. Durham grabbed the lead on lap two from Martin followed by Shultz who would power his way into the lead on lap five. Randy Humphrey was making noise of his own by passing three cars within the first ten laps of race two. Bagwell would take over the lead on lap twelve with Humphrey in tow. The first caution came when Bradley Weaver spun in turn three. Chris Townsend was hard on the brakes, but both front tires went flat and he was unable to avoid sliding into Weaver. Fortunately the contact was minimal, but Townsend had to be towed to pit road to replace his Goodyear tires.
Racing action resumed on lap 25 with Bagwell leading Humphrey, Hawkes, Shultz, and Martin. Hawkes would make a dicey move to the inside of Humphrey in turn one as he went to the apron. On lap 32 Wallis would spin in tricky turn two making no contact but bringing out the caution. Timmy Huston would give the field the green flag on lap 36 and for the next seven laps the top three would jockey for position.
The race would go green until lap 70 when Townsend spun in turn four. Another caution came on lap 74 with Wallis looping his car in turn two. The race would resume on lap 81 with Humphrey in constant pursuit of Bagwell. Humphrey's car picked up a loose condition and he spun exiting turn two. He was able to get the car fired and remain on the lead lap.
The final restart would be on lap 93 with only seven laps remaining. Todd Hawkes, in his Suptech Ford Focus would take over the lead on lap 94 but then Bagwell wrestled it back on lap 95. As they raced beneath the checkered flag, it was Bagwell for the win followed by Hawkes, Martin, Gerchak, and Humphrey.
This wrapped up an amazing year for Danny Bagwell earning him eleven out of twelve victories for 2011 and his fourth Series title in five years. His career victory total stands at 49.
For all of the most up to the date information make sure to visit www.iscarsonline.com as well as the Official ISCARS Facebook page: www.facebook.com/ISCARS and Twitter: www.twitter.com/ISCARSLive.
ISCARS DASH Touring is sanctioned by the American Speed Association. To learn more about the Daytona Beach, Florida-based Racing Speed Associates or the American Speed Association® including the ASA Member Track program, call (386) 258-2221 or send an e-mail to info@asa-racing.com. For news and information from racetracks and regional tours involved in the American Speed Association®, visit www.asaracing.com.
Connect with The Crittenden Automotive Library