ISCARS AND ROMESBURG MEDIA GROUP TEAM UP
ISCARS AND ROMESBURG MEDIA GROUP TEAM UP
ISCARS/ASA PR
May 27, 2011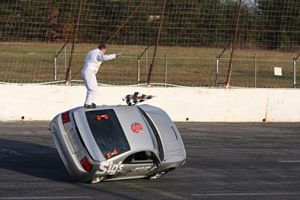 James A. Smith and Sam Young will perform at ACE Speedway during filming for ISCARS Wide Open by Romesburg Media Group
DAYTONA BEACH, FL - Int'l Sport Compact Auto Racing Series (ISCARS) DASH Touring, Sanctioned by the American Speed Association (ASA) is excited to announce an agreement with Romesburg Media Group (RMG) to film the upcoming event slated for ACE Speedway in Altamahaw, NC on Friday, June 10th.
Founded in 2000, RMG is an award-winning television production, marketing and distribution company based in Somerset, Pennsylvania. Since 2002, RMG's sports production wing, RMG Sports, has produced over seventy motorsports productions covering virtually every type of racing. RMG Sports is also the official television production and distribution provider for Powerboat Superleague. Learn more at www.rmgtv.us.
"ISCARS is very excited to have RMG on board to film a 30-minute edition of ISCARS Wide Open which will highlight two ISCARS DASH Touring races, driver interviews and technical updates on the new car bodies, fuel injection the series recent introduction of turbo along with ACE Speedway, an ASA Member track," states Randy Claypoole, President/CEO of ISCARS.
RMG and ISCARS will utilize their longstanding relationship with many cable network partners throughout the country which will air the show on well over 150 stations. ISCARS Wide Open promises to give the viewers an up close and personal experience of America's Premiere Stock Car Tuner Series. The air dates will be announced later.
"I am excited to be working with ISCARS to promote the series and its drivers, fans and sponsors," said RMG President Jarred Romesburg. "ISCARS Wide Open will be a fast-paced show that will showcase this series and its unique style of racing to millions of fans across the country and beyond!"
Brad Allen, Promoter at ACE Speedway is equally excited. "We are really looking forward to debuting ISCARS to our fans along with giving them the experience of being a part of filming for television," expressed Allen.
Another filming regular, Hollywood Stuntman James A. Smith, will be on hand to drive the ISCARS stunt car on two wheels, lapping the track during the parade laps for the ISCARS races. Smith will drive in the opposite direction and split the field of race cars.
Sponsorship opportunities abound, from commercials, to in-car cameras to segment inserts. Learn more about ISCARS at www.iscarsonline.com and ACE Speedway at www.acespeedway.com
For more Information:
RMG (814)443-0703 - http://www.rmgtv.us/
Brad Allen - ACE Speedway (336)585-1200
Connect with The Crittenden Automotive Library