ISCARS to Feature Young Adventurers at Dillon
ISCARS to Feature Young Adventurers at Dillon
ISCARS/ASA PR
May 11, 2010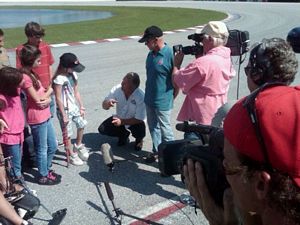 Danny Bagwell and Geoff Bodine interacting with the Quantum House kids chosen as Young Adventurers.
DAYTONA BEACH, FL - ISCARS DASH Touring, Sanctioned by the American Speed Association (ASA) is schedule for two 75 lap events on Saturday, May 15th at Dillon Motor Speedway (Dillon, SC).
Young Adventurers (youngadventurers.org) is in the process of filming a new television series called, "Be Someone's Hero."
Filming for the first show began two weeks ago at Palm Beach International Raceway in south Florida and features Geoff Bodine, Danny Bagwell, ISCARS and ASA. The production crew has released a sizzle video showing some of the action, which can be viewed on You Tube by using the following link: http://www.youtube.com/watch?v=HQySfdqY3CU (Video is below for you to enjoy!!!)
More filming is scheduled this coming Saturday at Dillon when ISCARS DASH Touring takes to the track for two races, each promoting Young Adventurers and the Quantum House, which was the featured charity in the film.
ISCARS kicked off its twenty-ten schedule at Hickory Motor Speedway on May 1st with two-time series Champion Danny Bagwell wrestling the win away from runner-up Joey Jones.
The transition of change continues as ISCARS takes on the new Sport Compact look with more teams opting for a complete body makeover. ISCARS has allowed the teams a year to comply with the new body package.
"This is the first significant change in the DASH Series since the late 90's when under NASCAR the series opted for the V6 and 15 inch wheels," states Randy Claypoole, ISCARS President. "It's tough to make change during this time of economic challenge, but it was necessary to bring our look current and to capture the interest of sport compact enthusiasts nationwide."
"Our goal is to bring something unique to the race tracks," adds Claypoole. "Fans and racers a like get very excited when they see the new body and how it is put together, making repairs of a damaged 'panel' easier and more economical."
Join ISCARS and the Young Adventurers at Dillon Motor Speedway just one exit away from Pedro and "South of the Border."
Follow us on the ISCARS DASH Touring FaceBook page or by logging on to www.iscarsonline.com
ISCARS DASH Touring is sanctioned by the American Speed Association . To learn more of the Daytona Beach, Florida-based Racing Speed Associates or the American Speed Association® including the ASA Member Track program, call (386) 258-2221 or send an e-mail to info@asa-racing.com. For news and information from racetracks and regional tours involved in the American Speed Association®, visit www.asaracing.com.
ASA™, ASA Racing™ and American Speed Association® are trademarks of Racing Speed Associates, LLC. Racing Speed Associates, LLC is not related to or affiliated with ASA Late Model Series.
Connect with The Crittenden Automotive Library