Danny Bagwell Wins ISCARS Double-Header at Orange County Speedway
Danny Bagwell Wins ISCARS Double-Header at Orange County Speedway
Devon Holder, ISCARS PR
November 2, 2009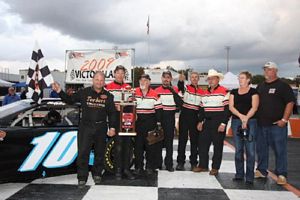 Race Winner Danny Bagwell and Four Tech Racing Team
Rougemont, NC - Danny Bagwell collected his fifth and sixth victories of the 2009 ISCARS DASH Touring season on Saturday at Orange County Speedway in Rougemont, North Carolina. The Cordova, Alabama driver qualified on the pole and led all sixty laps in the first race, while working his way up through the field from seventh to claim the victory in the second sixty lap feature.
"We fixed a wrecked car and its better," stated Bagwell after winning the second race. "This is the best this car has ever been. There was some misalignment that we discovered while repairing the car after Lonesome Pine." Bagwell showed how dominant his car was by claiming the checkered flag over Randy Humphrey and Jason Shultz in both races.
Race one saw Jason Shultz duck onto pit road under the first caution at lap 33. Shultz' team discovered one plug wire burnt, and another off on their Sunshine Sneakers machine. After making repairs, Shultz restarted in seventh spot at lap 39. After only 8 laps of green flag racing, Shultz had clawed his way back to the third spot. Randy Humphrey continued to try and work his way around Danny Bagwell, but it was to no avail, and Humphrey had to settle for second spot, with Shultz behind in third.
Humphrey, who sustained heavy damage to his car on a last lap crash with Jake Hobgood at Lonesome Pine Raceway, was thankful to all the folks who helped get his car repaired in time for Orange County. "I want to thank Robert Huffman, Grandpa, Bill Henderson, and all the guys on our Cup and Nationwide team. Seven guys spent three days taking this car completely to the ground and putting it back together." The second place finish allowed Randy Humphrey to take the point lead away from Eric Gerchak.
The second race saw Caleb Roark and Eric Gerchak start on the front row. Danny Bagwell drew a eight for the inversion, and took the green flag from the inside of the fourth row. Bagwell and several other cars avoided catastrophe when third place starter, Kevin Calkins, spun exiting turn four on lap one. Calkins did not make contact with anything, and was able to continue in his Walker Racing entry.
After the restart, Jason Shultz and Randy Humphrey wasted no time working their way to the front of the field. As the leaders came out of turn four on lap 7, Shultz went to the outside of race leader Caleb Roark, while Humphrey went to the inside. In the midst of the three wide battle for the lead, Humprhey and Roark rubbed sheet metal in turns three and four. As they raced out of turn four, Shultz came through as the leader, Humphrey followed in second, and Bagwell worked his way into third.
Jason Shultz time at the front of the field would be short lived. Five laps after taking the top spot from Caleb Roark, Danny Bagwell raced past Shultz for the lead on lap 12. Randy Humphrey followed Bagwell through for second and attempted to track down the race leader while Shultz settled in third.
The best battle on the track for several laps was for sixth position between three rookies. Caleb Roark, Kevin Calkins, and Jessica Walker raced nose to tail and side by side for over fifteen laps. Walker, a 19 year old driver from San Ramon, California, was making her first career ISCARS DASH start in the 21 Walker Racing entry. She was able to follow her teammate, Kevin Calkins, past Caleb Roark on lap 31.
Ten laps later, Roark had to make his way to the pit lane to replace a flat left front tire. The tire had been rubbing from the earlier contact with Humphrey.
Meanwhile upfront, it was all Danny Bagwell, who claimed his second victory of the night. Humphrey increased his point lead over Shultz and Gerchak with his second place finish. Shultz finished third and closed the gap in the rookie points behind Gerchak. Brad Queen grabbed his second fourth place finish. Eric Gerchak finished in fifth, and now sits unofficially third in the driver standings.
The International Sport Compact Auto Racing Series (ISCARS) DASH Touring Series, sanctioned by American Speed Association (ASA), now heads to the legendary Hickory Motor Speedway for their final event of the 2009 season on November 14th. The unofficial driver standings have Randy Humphrey in the lead, followed by Jason Shultz and Eric Gerchak. Unofficially, the Champion Points race appears to be very close which means that the 2009 ISCARS DASH Touring, ASA Champion will not be determined until the checkered flag falls at Hickory. Be sure to come out to Hickory Motor Speedway to see if veteran Randy Humphrey can claim his first ISCARS title, or if a rookie will be crowned champion.
Notes and Quotes:
*Eric Gerchak finished sixth in race one and fifth in race two. Gerchak now trails Randy Humprhey and Jason Shultz in the championship standings. "This was definitely our worst night of the season. It was our first time here, but we got better in the second race. When I bought the car from Eric Wilson, he said that Hickory was his track, so I am glad this will be decided there."
*Caleb Roark finished seventh in race one and eighth in race two after having a flat left front tire. Roark is now unofficially 95 points out of the championship lead. "It was a tough night. Our car was never really up to par with everyone else. The flat tire just summed up our night. We will
just go to Hickory and try to win both races."
*Brad Queen had two fourth place finishes and continued to lead the owner standings. "Fourth place for us here is pretty good. This track is rough. This is the worst we have run all year, but we will take it."
*Jason Shultz and his new sponsor, Sunshine Sneakers, scored two third place finishes and closed the gap in the championship battle. "We are just going to keep plugging away and try for the championship. I would like to thank Sunshine Sneakers for coming on board. They make uniforms for softball, basketball, and all proceeds go to children's charities."
*Jessica Walker, in her first career ISCARS DASH start, finished eighth in race one and seventh in race two. "The car handled better in the second race and I was very happy with it. It was a ton of fun to drive this car."
*Kevin Calkins finished fifth in race one and sixth in race two driving the second Walker Racing entry. "We are fighting a carburetor issue with our Toyota Celica. I want to thank Walker Racing and the Humane Societies of North Carolina. The car handled pretty good, but I did not have anything down the straightaway. We are going to keep working on the carburetor issue."
To find out more information about ISCARS DASH Touring, log onto www.iscarsonline.com. Upon visiting www.iscarsonline.com you will find updated race results, driver point standings, press releases, and interactive driver biographies.
ASA™, ASA Racing™ and American Speed Association® are trademarks of Racing Speed Associates, LLC. ASA International, LLC or Racing Speed Associates, LLC are not related to or affiliated with ASA Late Model Series, LLC.
Connect with The Crittenden Automotive Library