ISCARS Remembers Lee Holmes
ISCARS Remembers Lee Holmes
Randy Claypoole/ISCARS
May 18, 2009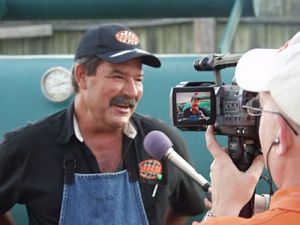 Lee getting interviewed while manning the BBQ with John at Orange County Speedway in 2006
Official Loses Battle With Cancer
DAYTONA BEACH, FL - Sitting on the back porch at Jay Laing's house (Jay is our Pace Car Driver) in 2003 we chatted extensively about the need for pit road officials. For many years Jay and his gang worked the Grand Prix in South Florida. We needed 17 officials in a hurry for Daytona. Jay and his gang stepped up to the plate. Lee Holmes was among that group.
In 2005 ISCARS came to life, assuming control of the DASH Series. Lee was among the original group of officials which also included John Shorb (Affectionately known to us as Big Dog). John and Lee handled pit road for 31 races under the ISCARS banner.
This past Christmas Eve we received word that Lee had experienced a stroke and was rushed to a W. Palm Beach hospital. Following a round of extensive tests it was determined that our beloved Lee had stage 4 cancer in his lungs and on his brain.
I visited with Lee in January, after his release from the hospital. Lee was weak but his spirits were high. He was determined to make it to our first event on May 9th, scheduled for Lonesome Pine Raceway in Coeburn, VA.
As we prepared to travel to LPR we have learned that Lee was very weak. With heavy hearts we pressed on to hold our first event without him.
As you know now, rain fell just minutes from the command to start engines. The track and pit road never dried enough for us to feel safe in putting the DASH cars on the track, so we rescheduled the event for June 27th.
While driving home on Sunday Jay received the call that Lee had passed Saturday afternoon.
Immediately we recalled the beautiful rainbow displayed in the sky over turns 3 and 4.
We found some solace in realizing everything seemed to make sense now. We chuckled....Lee couldn't be there so he was, in his own silly way, raining on our parade. Perhaps letting us know it just wouldn't be the same without him.
His obituary reads.... LELAND GENE HOLMES Leland Holmes, 53, of West Palm Beach died on Saturday, May 9, 2009. Survived by spouse, Anita; children, Lee Nicholas and Gina and his grandson, Ethan. Special thanks to Erika, Dave, Jimmy and Lisa.
Over the past few months Lee would send text messages to me three or fours times a week. "All going well here. Miss you guys," was a recurring theme of his messages.
As time passed the messages became fewer. I knew..we all knew...but we prayed for his return.
However, the Lord was ready for Him and decided to take him home. We'll reserve a place for him at the tailgate of Big Dog's truck. That is where Lee was when he wasn't officiating. Every trip I can recall, when we arrived at the hotel....Lee was standing at the tailgate. And that is where he would be after the race. Always smiling, always a chuckle.
Thanks for the memories Lee. God Speed to you my friend....."Our Friend."
Connect with The Crittenden Automotive Library