Danny Bagwell Claims Two Victories and Championship
Danny Bagwell Claims Two Victories and Championship
ISCARS/ASA Public Relations
October 29, 2008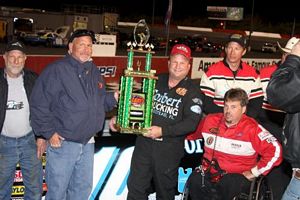 Brett Lamborne presents the trophy to Danny Bagwell
Hickory, NC - Danny Bagwell clinched the 2008 ISCARS DASH Touring Championship in style last week at the Hickory Motor Speedway. Bagwell captured both twin 75 lap races in route to his second consecutive ISCARS DASH Touring, ASA Championship. Bagwell passed pole sitter Randy Humphrey with seven laps remaining in race one to score the victory and held off 1986 Daytona 500 Champion Geoff Bodine to win race two. Brad Queen of Kernersville, NC, was crowned as the 2008 ISCARS Rookie of the Year after the second race. Queen also finished second in the Championship hunt behind Bagwell.
Qualifying saw two drivers on the front row for the first time this year. Randy Humphrey, who had not raced with ISCARS since Florence in June, put his Tarheel Underground Camera Pontiac on the pole. "We tested up here two weeks ago", said Humphrey after qualifying, "I want to thank Robert Huffman (crew chief) and all of my Pro Cup guys for coming up here and helping us." Alongside Humphrey on the outside of row one was 19 year old Jason Shultz of Manassas, VA. Shultz was making his first career ISCARS DASH start at Hickory, but did have experience there in other racing divisions.
Early in the first race it appeared that Randy Humphrey had the car to beat. Most everyone behind him was struggling with a loose condition. That was evident on lap 21 when third place driver Chelsea Schillig spun her Yadkin Valley Generators Toyota off of turn four. Geoff Bodine was running in fourth directly behind Schillig and could not avoid her spinning car. Bodine suffered cosmetic damage to the front of his Lucas Oil/ Monavie machine, but opted to stay out under the caution to maintain his track position.
As the race restarted on lap 26 rookie drivers Brad Queen and Jason Shultz made contact in turn one. The result was Shultz spinning and restarting at the back of the field. On lap 38 there was hard racing going on in the middle of the pack. The action was fierce between Ned Combs, Joey Jones, Matt Johnson, and Shultz. As the group exited turn four 2007 ISCARS Rookie of the Year, Matt Johnson, spun and came back across the track directly in front of Shultz. Shultz had nowhere to go and plowed into Johnson. The impact smashed the radiator on Shultz' machine and ended his night prematurely. "That's racing," explained Shultz as he stood next to his mangled car, "I didn't have anywhere to go. Tough luck."
Seven laps after the restart on lap 51, rookie contender Chelsea Schillig spun again, this time at the entrance of turn one. She had fought a loose condition during both practice sessions and that got progressively worse during the race. This set up a restart on lap 56. Bagwell and Bodine were pressuring Humphrey for the lead. As the leaders exited turn two on lap 68, Humphrey wiggled and gave Bagwell room to pass on the inside. Once in front Bagwell drove away to the victory over Humphrey. "We were a little bit too loose to start with," explained Bagwell from victory lane, "Randy was better than us early in the race but he kept getting looser and looser, so I figured I would be there when he got too loose and try to get under him, and that's what I did." Runner up Humphrey had this to say after the race, "We had a great car. I hate we wiggled off two. The car was real loose off the last 15 laps."
For race two, Bagwell drew the number one, which inverted only the top two finishers. Therefore Humphrey started on pole with Bagwell alongside. As the race went green on lap one, three cars spun at different points on the racetrack. Chelsea Schillig spun her car at the exit of turn two, Brandon Burris spun his car at the entrance of turn three, and Geoff Bodine spun his car at the exit of turn four. This jumbled up the running order for the restart on lap 12 with Bagwell out front, Gary Young Jr. second, Humphrey third, Brad Queen fourth, and Matt Johnson fifth. Bodine restarted in the sixth position.
On lap 17 Bodine and Queen were racing for fourth. As the pair exited turn four Bodine's right front fender climbed up over the left rear of Queen launching Bodine up on two wheels. This was almost an exact instant replay of the race at Dillon Motor Speedway in September when the two got together. However, Bodine was not as happy with this result, "I thought I was going to roll over that time… That is what happened to me in the truck wreck at Daytona." Bodine did say that he would be in discussion with ISCARS officials to look at a solution to the problem, perhaps using the Bodine Bar to prevent instances like that from occurring.
On lap 21 Randy Humphrey passed Gary Young Jr. for second. By lap 24 it was Bodine around Young Jr. for third. Young was in a backup car that he only made two laps in during qualifying, but he was doing a nice job of running up front in it. On lap 39 Humphrey again wiggled off turn two allowing Bodine by for second. On lap 44 Chelsea Schillig's valiant bid for the Rookie of the Year title officially came to an end as she pulled her car into the pits with a broken rear end seal. When asked to describe her night after the race Schillig said, "It was exhausting. We just could not get a break." The seventeen year old from Apopka, FL was all smiles and upbeat as usual. She was excited about her chances to contend for wins and an ISCARS championship in 2009.
With the laps winding down in the final race of the 2008 ISCARS DASH Touring season, the action on the track began to heat up. The restart came on lap 51 with Bagwell leading Bodine, Humphrey, Young Jr., and Matt Johnson. On lap 55 Young nudged Humphrey and slipped by for third. As the pair entered turn three they tangled once again. This time both cars went spinning into the outside wall. Humphrey sustained heavy damage to his pole winning car and was done for the night while Young was able to continue. However, both drivers were summoned to the ISCARS hauler after the event by race director Scott Willard.
This turn of events jumbled the running order once again. Bagwell was leading Bodine, Matt Johnson, and veteran Ned Combs. However, as the field got the one to go signal, Johnson had to come to pit road with a flat right front tire. The race went green and Johnson rejoined the field but he was one lap down to the leaders.
After the restart on lap 62 Bagwell was able to hold off Bodine and Combs to the checkered flag. "I think we made the right changes," said Bagwell in victory lane, "We tightened it up. We were still loose, but we were not as loose as they were." Bodine picked up his best career ISCARS DASH finish while Combs scored his best finish of the season. "It's great to finish one here at Hickory," said Combs, "I won a race here years ago but since then it seems I always get into one of these wrecks."
Brad Queen won the 2008 ISCARS DASH Rookie of the Year award and had this to say, "Chelsea had a little bit of trouble, we had a little bit of trouble, but in the end it went our way." Queen went on to praise his fellow rookie challenger, "I cannot say enough about Chelsea, us two racing on the track like that [all season] was just awesome."
ISCARS wishes to congratulate Danny Bagwell and Brad Queen for their accomplishments this year. Be sure to log onto www.iscarsonline.com during the offseason for all of the up to date news regarding the 2009 ISCARS DASH Touring season.
Connect with The Crittenden Automotive Library