Bagwell Again and Again
Bagwell Again and Again
ISCARS PR
July 26, 2008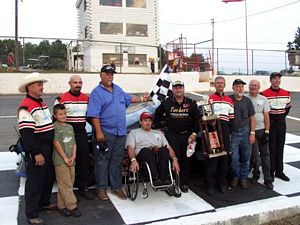 Four Tech Racing Team Celebrates Victory
CALLAWAY, VA - International Sport Compact Auto Racing Series (ISCARS) DASH Touring, Sanctioned By American Speed Association (ASA) returned to Franklin County Speedway for the first time since 1986, a race won by Hut Stricklin. Twenty-two years later it was Danny Bagwell showing the way to victory lane not once but twice as ISCARS DASH Touring made a pre-race decision to run two 40 lap events in place of the planned 150 lap format.
"Richard Gluth is doing a tremendous job with this track," states ISCARS President Randy Claypoole. "This was my first time seeing the track, and I was really impressed with the determination Richard shows in building upon the great history of this facility."
ISCARS is giving even greater consideration to offering the competitors and the fans two races instead of one. "Flexibility is a key component and we certainly want to put on the best show possible with what we have to work with at each event," says Claypoole.
Danny Bagwell, 2007 ISCARS DASH Touring Champion, earned the top spot during qualifying. Gary Young, Jr made his own statement by beating Justin Hobgood for the outside pole. At the start of the event the top three quickly got down to the business of jockeying for the lead. Young worked his way passed Bagwell exiting turn two and netted six laps up front before Bagwell retook the lead. Hobgood was able to get by Young relegating him to third.
With just four laps to go, Young had a tire going down and to settle for a 6th place finish. Danny Bagwell took the win, Hobgood was second. Chelsea Schillig scored her second 3rd place finish in a row. Brad Queen and Joey Jones rounded out the top five.
Race winner Bagwell drew a number four inverting the top four finishers to determine the starting grid for the second 40 lap race. Brad Queen gained the top spot by virtue of the invert and quickly showed he was quite comfortable leading. After three laps in the top spot, he was quickly disappointed when his car experienced mechanical issues, forcing him to retire the car from the race. Bagwell assumed the lead and with great determination held off a relentless Hobgood.
Hobgood dogged him lap after lap, touching Bagwell's bumper several times and even got a nose under him coming off turn four. "I really wanted to get passed him and thought I had a chance until the right front started to give up on me," said Hobgood after the race.
With the two wins, Bagwell claimed the 15th and 16th wins of his career tying him with 1995 Champion David Hutto and passing 1994 Champion Will Hobgood (15). Rounding out the top five were Justin Hobgood, Gary Young, Jr, Chelsea Schillig and Joey Jones.
More thoughts on the event: "The economy and fuel prices continue to impact the race industry and the effect is certainly being felt at our events this year," states ISCARS President Randy Claypoole. "The majority of our race teams are carefully gauging travel time and towing distance when it comes to considering their bottom line expenses. Those who own their own businesses seem to have more resources to justify the added expense. Others have to take a closer look at all the factors, distance, hotel rooms, purchase of race day tires, versus winnings at the end of the day."
ISCARS DASH Touring promotes itself as a unique series, being the only sport compact stock car touring series in America. Unlike Late Model or Modified touring series who have a large pool of similar cars to pull from, ISCARS DASH Touring leans on a limited contingency of car owners that have race ready ISCARS DASH Touring cars available. "We have enough teams with cars ready to race," adds Claypoole, "We just need to see a decrease in travel expenses and an increase in sponsorships to help with the overall expenses."
With recent engine rules going into effect, ISCARS is still looking at ways to reduce the cost for a team to participate and yet remains one of the least expensive touring series in which to participate. Since the late 90's teams have been limited to using a V6 power plant that costs $35,000. This year ISCARS has allowed teams to consider the small block crate V8 as an option. An engine that ranges from $5000 to $7000 depending on which manufacturer the team prefers. "We have been talking to manufacturers in recent weeks as they, as in the 70's, refocus their attention to smaller cars with better fuel economy," says Claypoole. "There is some interesting news developing around more powerful 4 cylinders in the offing. And, we'll certainly give every consideration to where the industry is heading. For the first time since we started ISCARS, manufacturers are actually interested in having dialogue. We certainly want to see where this can go."
Next Race: New Senoia Raceway, Senoia, Georgia on Saturday, August 9th.
Connect with The Crittenden Automotive Library