Miller Captures First Career ISCARS Dash Win
Miller Captures First Career ISCARS Dash Win
Devon Holder/ISCARS PR
June 23, 2008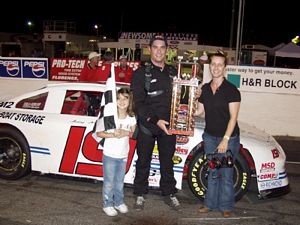 Joey Miller pictured in 2007
DAYTONA BEACH, FL - ISCARS Congratulates Joey Miller of Wilmington, NC on his first career ISCARS DASH Touring win. Also the first driver to win an ISCARS DASH event under the new sanction with ASA.
Joey Miller got his first career ISCARS Dash Series win at Florence Motor Speedway on Friday. Miller Started from the pole and led all 75 laps in the first twin feature of the Peggy Torbert Memorial 150. Miller?s M2 RV/Boat Storage Pontiac was challenged only by 2007 ISCARS champion Danny Bagwell during the first 75 lap feature. After winning, Miller was ecstatic, ?I?ve got so many people to thank I don?t know where to start? I couldn?t really think of a better track (to get my first win) because I like this place.?
After capturing the victory in the first twin 75, Miller and his M2 RV/Boat Storage Pontiac would have to start the second 75 lap race in 6th position due to the inversion. Miller?s crew made a few small adjustments to his machine prior to the second race to help the cars handling in turns 3 and 4. Miller felt the car was good in turns 1 and 2, but ?pushy loose? in 3 and 4. After the adjustments were made, the M2 RV/Boat Storage Pontiac was ready to take the green flag in the second 75 lap feature.
As the second twin race went green, the Wilmington, NC driver wasted no time moving up through the field. It took Miller only a half a lap to charge from his sixth starting spot up to second. However, a caution on lap three bunched the field. On the restart, Miller quickly fell from second to fifth position getting passed by three cars on the outside. As 2007 ISCARS champion Danny Bagwell pulled away at the front of the field, Miller began passing cars, regaining his track position. With 25 laps to go, Miller passed Scott Krehling for second position. Now Miller?s sights were set on Bagwell.
Scott Krehling, who was running fifth, spun with only a few laps remaining in the race. This brought out a yellow flag and set up a green-white-checker finish at Florence Motor Speedway. This erased the lead that Danny Bagwell had over the field, putting Joey Miller?s M2 RV/Boat Storage Pontiac right against his rear bumper for the final two lap sprint. However, Bagwell pulled away on the restart and beat Miller to the line for the victory.
After the race, Miller commented on his second place finish, ?It was a fun race, a lot of dicing going on. Just used my stuff up a little bit the first race and didn?t really have as much as I did just trying to make sure I got that first win.? Miller was able to come out of Florence Motor Speedway with a pole position, his first career win, and a second place finish. On top of that, his M2 RV/Boat Storage Pontiac was also in one piece.
Joey Miller and his M2 RV/Boat Storage team return to ISCARS Dash Series competition on Saturday July 12th at Dillon Motor Speedway in Dillon, SC. On Sunday July 13th, the ISCARS Series will hold a test session at Rockingham Speedway in Rockingham, NC in preparation for their return to speedway racing.
Connect with The Crittenden Automotive Library