ISCARS DASH Touring Ready to Go Racing
ISCARS DASH Touring Ready to Go Racing
ISCARS PR
May 20, 2008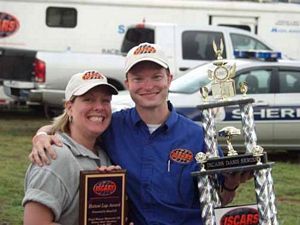 ISCARS Officials Tiffeny (spoken for) and Flagman Timmy Hutson (single) all smiles along with teams and fans!
DAYTONA BEACH, FL - International Sport Compact Auto Racing Series (ISCARS) DASH Touring, Sanctioned by ASA is scheduled to hold two races in one day at Florence Motor Speedway Friday, June 6, 2008.
"It has been a long time since we have been to a race track," says Randy Claypoole, ISCARS President. "So much has happened and with good reason we found it necessary to step back and make sure all of the developments had time to fall into place."
During the off season, ISCARS worked out the details to offer an economical alternative in its engine program. Beginning with this first event, ISCARS has approved a small block V8 crate motor that reduces the cost substantially from the familiar V6. "Teams now have a choice between staying with a V6 ($30,000+) or opting for a crate engine which ranges in cost between $5000 and $8000 depending on which manufacturer they select.
In addition ISCARS has been developing a new body program in order to update the styles to what is currently on the market. Plans are to add a less expensive "molded" body by midseason. The Chevy Cobalt is first on the list with consideration of other sport compact styles by the end of the year.
ISCARS gained considerable attention a few weeks ago with the announcement of a sanctioning agreement with the American Speed Association (ASA), an organization now owned and operated by Dennis Huth.
"We are very excited to be a part of a large family of top notch racing series participating under the ASA umbrella," says Claypoole. "Joining the ASA family presents opportunities to co-promote a larger event for the fans. This results in our schedule undergoing some changes that will be announced shortly."
On Friday, June 6th, ISCARS DASH Touring will launch the 2008 season by holding the 3rd Annual Peggy Torbert Memorial Twin 75's" at Florence Motor Speedway.
Championship Points will be awarded for each of the two events. In addition, points from the first race will also be used to crown the Champion for 2007 and the Rookie of the Year. ISCARS was forced to postpone a final event in 2007 leaving the Championship in the balance. "I realize that crowning last year's Champion this far into the 'next' calendar year is quite unusual. But, we felt it needed to be decided at the track and not just handed to a driver," says Claypoole. Danny Bagwell and Joey Miller, the drivers with a mathematical chance to win the Championship, agreed.
ISCARS originally planned to end the 2007 season at Hickory Motor Speedway. At the Hickory event it was announced that a race would be added at Tri-County Speedway extending the season.
Due to a change in management the logistics were difficult to finalize with only days to prepare. Both the track owner and ISCARS felt it best to step back and reschedule the event for early in 2008. Once the new management was in place, terms were reached for the track to host three events in 2008. The new management made the decision to put into place stiffer sound restrictions. It was determined that ISCARS DASH Touring could not achieve the required decibel reading even with mufflers. ISCARS experienced similar circumstances at Shenandoah Speedway in 2006. The V6 engine has a higher pitch than the V8's use in most local and touring divisions. Even with mufflers it would be a challenge to achieve a limit of 100 decibels at the control tower of the track.
An event was also scheduled for Saturday, May 10 at Caraway Speedway, but was canceled due to the passing of Claypoole's father.
ISCARS also feels sadness in the loss of a determined competitor, Mark Howard, who passed away recently. Mark was a former crew member for Mickey York. After several seasons and a 2003 Championship in the Allison Legacy Series, Mark competed in select ISCARS events from 2004 until 2006, winning the ISCARS 2005 Rookie of the Year. He will be greatly missed.
Now it is time for ISCARS DASH Touring to be full steam ahead, with sights set on Florence Motor Speedway. A Championship to be decided and another chase begins, all at the same event. Bagwell nor Miller have ever won a "DASH" Championship. Bagwell may be best noted for winning at Daytona in 2004. Or perhaps for his Petty-like barrel roll which garnered him world-wide exposure. Miller is a reserved family man whose racing roots run deep. The two will duke it out with a class "A" group of seasoned drivers. Then with an hour break in between, giving the teams a chance to make adjustments and/or repairs, Twin number two will get underway. Also participating in the event are the Florence Motor Speedway Late Models, Super Stock and Street Stock divisions.
Visit iscarsonline.com for additional information about ISCARS DASH Touring, Sanctioned by ASA.
For More Information Contact:
ISCARS PR at 386-615-3515
Or by Email: RcCORE@aol.com
Florence Motor Speedway
Timmonsville, SC
Charlie Powell at 843-761-1428
Connect with The Crittenden Automotive Library