ISCARS DASH Out to Recapture the Glory Days
ISCARS DASH Out to Recapture the Glory Days
ISCARS Public Relations
August 13, 2007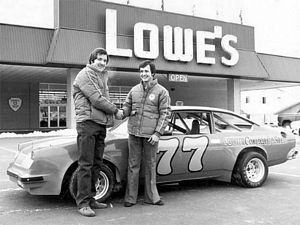 Solid, long-term sponsorships were a rarity in the early days of the Goody's Dash Series. Dean Combs (left) and crew chief Richard Mash pose in front of a Lowe's store in the late '70s.
DAYTONA BEACH, FL - ISCARS DASH Touring sets its sights on cutting costs by offering teams a less expensive engine configuration. Early in 2007 ISCARS President Randy Claypoole announced that teams would be allowed to build and utilize a small block V8 engine cutting the cost from over $35k to less than $15k.
Requests for the new rule package come in almost on a weekly basis. Teams may opt to use their six-cylinder engines as long as they choose. ISCARS plans to use weight and different carburetors in order to maintain parity.
Reading some of the information located recently in a search on google, ISCARS uncovered an article archived in Stock Car Racing Magazine. The cover of the first Official Rule Book is shown with the inscription "The Poor Man's Way to Race."
To read the referenced article go to: http://www.stockcarracing.com/thehistoryof/134_0311_dash_nascar_touring_series_end/photo_02.html
Any racer knows it does take some solid funding. Nothing seems inexpensive anymore. We just have to be smart and find ways to reduce cost, or save money.
The DASH Series has enjoyed some great exposure over the years. It boasts a rich history of 33 years along with a list of big named tracks.
The teams once again have pulled together to begin a new era. Fans can now follow the growth of this exciting series by tuning in to the weekly television show, ISCARS Wide Open.
ISCARS DASH Touring, staying true to its roots. "We will never be the biggest fish in the pond," says Claypoole. "We have a niche and we are happy to be the best we can be in that niche. We want to give the fans of auto racing an exciting form of entertainment. And let me tell you, these guys can really put on a show."
Connect with The Crittenden Automotive Library