Rain in South Carolina Postpones DASH Race
Rain in South Carolina Postpones DASH Race
ISCARS Public Relations
June 2, 2007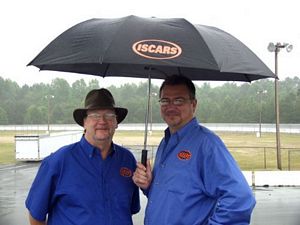 ISCARS Weatherman Tommy Tortilinni stands next to ISCARS President Randy Claypoole with the rain soaked Florence Motor Speedway in the background.
Timmonsville, SC - Tropical Storm Barry made an earlier than expected visit to Florence South Carolina this morning, as teams waited in line to register for the ISCARS DASH 150 scheduled for Florence Motor Speedway.
A few teams made the trek despite seeing the weather forcast, hoping for a different outcome. A light drizzle hit the area around 9am as the outer bands of Barry made its impending presence known.
"Naturally, we feel bad knowing that there was no way to get the event in on Saturday," said Randy Claypoole, ISCARS President. "All of our race officials were in place and ready for registration to begin. After checking the radar there were no doubts that the weather would only worsen as the hours progressed."
ISCARS and Florence Motor Speedway promoter, Charlie Powell will assess available dates in the next few days and pick a suitable date to reschedule the race.
"I feel certain it will not be either of the next two weekends," (June 9 or 16) said Claypoole. "We were trying not to have any back to back races, but that may be difficult to arrange since we have two events a month through the summer."
"Also, we'd like to have a little extra time to promote the new date not only to the teams but to the fans in the area."
"We appreciate all the teams that made the effort despite the reports of bad weather. We certainly understand those who simply made the call to stay home."
Connect with The Crittenden Automotive Library