Wilson Scores ISCARS Career Win Number Two In As Many Races
Wilson Scores ISCARS Career Win Number Two In As Many Races
Tony Stevens/ISCARS PR
June 23, 2006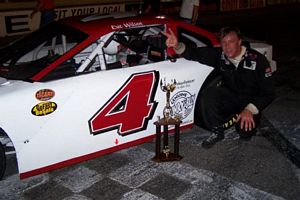 Eric Wilson made use of the high groove at Nashville to take home victory for the second race in a row.
NASHVILLE, TN (June 23, 2006) – It took thirty races for the first victory, but only one for the second win of Eric Wilson's ISCARS (International Sport Compact Auto Racing Series) Dash Series career. Wilson, from Hickory, N.C., took the lead on lap 41 of the Music City 100 at Music City Motorplex in Nashville, Tenn., and never looked back. He was followed to the checkers by polesitter Jake Hobgood, Johnny Chapman, Danny Bagwell, and Scott Weaver.
After Hobgood fell to the back of the field because of adjustments to his machine after cars were impounded, Johnny Chapman started on pole and rocketed to the lead on lap one over Danny Bagwell. The No. 24 appeared impossible to catch for the first third of the race until lap 30 when Hickory winner Eric Wilson moved to second and began to chase down the leader, Chapman.
A caution on lap 34 for debris in turn four brought Wilson right onto the bumper of the US Reconstruction Pontiac Sunfire of Chapman. Wilson found his way to the front on lap 41 by using the top side of the racetrack out of turn two and didn't slow down until the halfway break on lap 55, opening up over a two second lead in less than 15 circuits around the .596 mile oval.
Following the halfway break, on lap 61, Chapman peeked to the inside of Wilson for the lead in turn one and gave the driver of the No. 4 a challenge down the backstretch but was unable to retake the lead. Hobgood bypassed Chapman and moved to the second spot by lap 70 and began slowly closing on Wilson's back bumper.
Wilson's lead was erased on lap 86 when a caution came out for debris in turn two. The single file restart on lap 91 was Hobgood's best chance to take the lead, and he took full advantage of it. After Eric Wilson's initial jump on the restart, Hobgood looked low out of turn four on lap 93, but was outpowered down the frontstretch, having to watch Wilson pull away.
Despite closing the gap from about a second behind with three laps to go, Hobgood was unable to overtake for the win and saw Eric Wilson's No. 4 John Boy and Billy Pontiac take home the checkered flag. It was his second consecutive victory and second career victory in the series.
Wilson, an employee of Cal Wells' Nextel Cup PPI Racing No. 32 team, had help from a former driver of his at the challenging Nashville oval. "Little Bobby (Hamilton, Jr.) told me the groove around this place and I watched the late model race tonight," said Wilson in victory lane. "It made a big difference."
Top Ten Finishers were:
1. Eric Wilson
2. Jake Hobgood
3. Johnny Chapman
4. Danny Bagwell
5. Scott Weaver
6. Ned Combs
7. Mike Watts
8. Randy Humphrey
9. Scott Krehling
10. Perry Nantz
Other Notes:
ISCARS President Randy Claypoole and Shenandoah Track Owner Jeff Vaughn have agreed to postpone the race at Shenandoah Speedway originally scheduled for Saturday, July 1, 2006 so that the teams will have more time to install the required muffler systems in order to meet county sound requirements at the 3/8 mile facility. A new date will be announced within a few days.
Highlights from the Nashville race can be seen on the next edition of ISCARS Full Throttle, a nationally syndicated television magazine show. (Check local listings) For more information about ISCARS, visit www.iscarsonline.com.
Connect with The Crittenden Automotive Library