ISCARS to Have Weekly Television Show
ISCARS to Have Weekly Television Show
ISCARS PR
March 24, 2006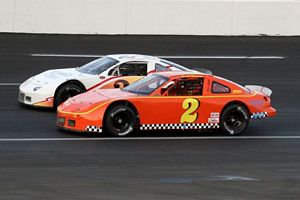 Scott Weaver (2) and Johnny Chapman (24)
ISCARS Full Throttle
DAYTONA BEACH, FL - International Sport Compact Auto Racing Series (ISCARS) has signed with RACELINE Productions, Inc. to produce a thirty minute weekly television show called ISCARS Full Throttle which will highlight races, offer technical information, and give a behind the scenes view of the fascinating personalities that comprise America's only Sport Compact Stock Car touring circle track series.
Radio/TV personality Joe Moore, heard weekly on MRN Radio, will be the host of the new show. ISCARS Full Throttle will begin airing on Saturday, May 6, 2006 at 11:00 AM on Comcast/Charter Sports Southeast which carries 4.5 million subscribers in eleven southeastern states, and will also be available to millions more via DISH Network and DirectTV.
Moore has been with MRN Radio for 24 years and has also produced the television show RACELINE for 13 years, which is syndicated on 150 stations coast to coast and worldwide on American Forces television.
"Our crew is very excited about producing ISCARS Full Throttle. We see it as an opportunity to start with a clean sheet of paper and create a weekly television show that not only covers the series, but covers the people who make up the series. These people are our neighbors, who work and raise their families just like we do, but who also answer the call to race. They each have interesting stories and we intend to tell those stories on Full Throttle. We can't wait to get started," says Moore.
RACELINE and ISCARS Full Throttle will run together as an hour block of programming beginning on Saturday, May 6, 2006 and continuing for 17 weeks ending on Saturday, August 26, 2006, with ISCARS Full Throttle scheduled to air at 11:00 AM and RACELINE immediately following at 11:30 AM. Thereafter, ISCARS Full Throttle will continue for an additional 9 weeks (to complete a 26 week run) ending the week of October 28, 2006 during which it will be scheduled during the broadcast week at the best time available. This is due to the very heavy and extensive commitments CSS has to college football.
Randy Claypoole, President/CEO of ISCARS states, "Television coverage provides our marketing partners a greater value for their advertising dollars as well as broader exposure for drivers seeking to showcase their talent. We have a highly competitive racing series that more racing fans need to know about. The show will be informative, entertaining, fast paced, and as one sport's writer suggested will perhaps become known as, Sport Compact Power Half Hour"
The show will be produced by Raceline Productions, Inc. and will be closed captioned.
The ISCARS 2006 racing season begins Saturday, April 1, 2006 at the Hickory Motor Speedway in Hickory, NC.
Connect with The Crittenden Automotive Library